We're on the ground in the Valley, and the circus starts opens tonight. Here's what we've got …
• After all the pomp and circumstance of his opening press conference, the warm remarks for the organization and city, and the jersey photo op, new Broncos coach Sean Payton stepped off the podium and delivered four sentences that cut right through everything else and right to the heart of the job ahead.
"I'm not too familiar with that," he said. "Yeah, that's foreign to me. That's not gonna take place here. I'm unfamiliar with it, but our staff will be here, our players will be here and that'll be it."
The question? Directly, whether Russell Wilson will be able to have his own support staff, as he did in 2022, working out of the Broncos facility. The unmistakable answer—No.
If you saw the look on Payton's face as he spoke, it only added to the words.
This is exactly what the Broncos needed. Nathaniel Hackett was fired the day after Christmas, and in this space that afternoon I wrote that the first priority for Denver ownership should be finding someone who can stand up to Russell Wilson, be it an experienced head coach like Payton or Jim Harbaugh, a rugged ex-player like DeMeco Ryans, or a candidate with background with Wilson like Dan Quinn.
I think the lengths to which the Walton family, led by Broncos CEO Greg Penner, went to hire Payton are proof positive that they knew it. With the team tethered to the mega-contract it brokered for Wilson last September, the only path forward here is right through the fire. What happened last year, a year in which Wilson was given carte blanche to take everything he felt denied of in Seattle, didn't work, to say the least. And from that 12-car (and 12-loss) pileup, Denver needed to explore what actually has worked for Wilson in the past.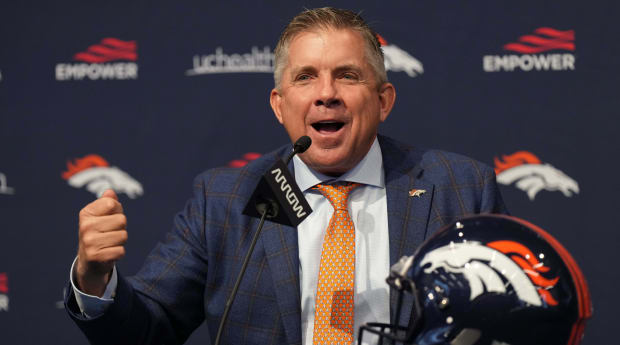 That's where another comment Payton made resonated when he was asked about deploying Wilson as a player.
"The number one job for us as coaches, in evaluating our players—what are the things that they do really well?" he said. "And then let's try to put them in those positions. At least that's the starting point, and I think that's important, to highlight their strengths and also minimize any weakness. Here's what I know—he's a hard worker, he's an extremely hard worker, that's important. I think you take that, you understand the skill set, he's won a lot of games in Seattle … And then you go from there."
So as far as creating an offense that works best for Wilson, it's probably not going to be the sort of offense he'd daydream of running back in Seattle, the kind the Broncos worked to build for him last year. It'll probably, in fact, look like a tacit acknowledgment that Pete Carroll and his offensive coaches knew how to get the most out of Wilson all along, no matter how many cries there were to let the quarterback cook.
And you know what? That's O.K. There were forever questions about what it might look like if all the movement stuff Seattle did with Wilson was curbed. He was used in a more traditional fashion, and we found out. All the same, he made it a priority to get the kind of treatment in his new home that Tom Brady got in Tampa, and found a team who'd give it to him, and we saw how that went, too.
What's important now is Wilson getting past the worst year of his career.
By firmly drawing a line in the sand Monday, Payton started to chart out the course for Wilson. Now, he just has to listen to his new coach, because that new coach is one who won't simply be gone if things don't go Wilson's way.
In fact, if this doesn't work, it could be the other way around.
• I've told the Isiah Pacheco draft story before.
The Chiefs went into last year's draft noticing the glut of running backs. It happened, in large part, thanks to the COVID year of 2020. The fact of the matter is backs need tape, and because of cancellations in 2020, more of them than usual stayed an extra year in school, and that led, as Kansas City saw it, to a list of guys at the position that were intriguing all the way to the end of the draft. And making those late-round backs a focus, the Chiefs did a ton of homework, and plucked Pacheco's name from the pack.
So, anyway, I figured I'd have Chiefs GM Brett Veach chime in on it when I had him on the phone Saturday morning for our MMQB lead item.
"Typically, with those late-round running backs, you have, whatever, eight, nine of them," Veach said. "And I remember as we were getting through the combine meetings and the post-combine meetings and the Pro Days, we get to the running back day when we're a few weeks out of the draft and we're still working through these late-round, free-agent type guys and just noticing that there's so many. And I told the guys, there's so many running backs, it just tells you like one of these guys is gonna be really good here and we just have to make sure we get this stack right and hopefully we get the right one.
"I joked with them at some point saying, like, We're gonna run out of time here because we are spending way too much time on running backs. There were so many, but we systematically got through it, and we had him on the board based off his tape. Now, his tape was a little bit different because it wasn't like he had crazy, insane production. It was more of, a big running back that runs hard, has pretty good feel in between the tackles and he was, whatever he was, 5'11", 200 pounds. Just felt like he fit that mold based off tape.
"But there were a ton of guys—and we thought he would run fast but we didn't know how fast. And so when he goes to the combine and runs a 4.3, all of a sudden, it kinda lights up like a neon light, like whoa. We kind of like this guy a little late, but this guy runs 4.3. Let's make sure we're going through this stack, let's make sure we're aware of all these verified numbers now.
"Then … It's a passing league and we're a passing team. We do so much with our running backs in regards to the passing game and pass [protection]. The one thing that held us up initially was, I don't know if he had four catches. I mean, he had no pass production, and we didn't know, is this gonna be one of those guys that is a really good runner but when you come of the backfield, the guy has like stone hands and it just looks off? I mean, the guy can run 4.3. He can be 220 pounds. He can be a bulldozer. But, I mean, with the way we run our offense, like this guy's got to be able to catch.
"And we'd went to the all-star games and you saw some more and you felt pretty good about it. Then the pro day, just had a phenomenal pro day and caught everything, snagged everything, looked confident, looked comfortable. Now, pro days are different from games, but I think you saw enough, or we got to the point where we didn't want to risk [losing] the guy in [college] free agency. We liked him off tape, but once we got through the combine, the numbers got verified and then you went back and watched the all-star games and then cherry on top was the pro day."
And the rest, of course, is history.
• A.J. Green announced his retirement Monday, finishing up, after three years in Arizona, with 727 career catches for 10,514 yards and 70 touchdowns. That puts him 51st in catches all-time, 44th in yards and 49th in touchdowns. Which, I think, probably puts him on the fringes of the Hall of Fame discussion, playing in an era where numbers for receivers absolutely exploded.
So I'll remember that about him. I'll also remember the asinine way his career took a wrong turn, through no fault of his own.
It was 2019, and I was starting my camp trip. To celebrated the 100th season of the NFL, the Bengals were opening up in Dayton, where the league's first game was played. Initially, the idea was for them to play on the field that said game was staged, which had become a city park. The league was gonna go in and spend a bunch of money to lay down an NFL-quality grass field on the grounds, have the Bengals practice on, then donate the field to the city, which would've been a good story all the way around.
The problem was, in getting the project approved, word surfaced that the plot of land the NFL eyed was actually an old Indian burial ground, and thus protected. The city did a site survey, found that to be correct, and nixed the NFL project. As a result, undeterred, the league pivoted and moved the Bengals practice to Welcome Stadium at the University of Dayton.
The problem with that? When I arrived on that late July day, coaches and players were getting off the bus and finding an old FieldTurf surface in disrepair. One coach ran his hand through it and showed me pebbles and pieces of glass he picked up. They'd been instructed to go forward with the practice, because it was an important event to the league, part of their Back to Football celebration.
Anyway, later that day, Green went to catch the ball by the sideline, his foot slid in the turf and he went down, writhing in pain. He suffered a severe high ankle sprain. He'd never play for the Bengals again, missing the whole season and then leaving for Arizona the next year. And thereafter, after posting 1,000-yard seasons every year he'd stayed healthy in Cincy, he never came close to reaching that benchmark again.
So, yeah, you can imagine how mad the Bengals coaches and players were that day, and it'd be hard to blame Green if he still had hard feelings over the whole thing.
But he did find a way to reinvent himself as a complementary piece in Arizona. And here's hoping people can remember what he was in Cincinnati in his heyday—memories that are probably a little clouded now because Ja'Marr Chase and Tee Higgins are Bengals now—and that the words of those who were with him then carry some weight.
"The Baltimore killer!" Grambling coach Hue Jackson, who was with Green for four seasons in Cincinnati, said via text on Monday. "Was a tremendous player. He's a quiet personality, but was deadly on the field. People won't talk about him much, because he never made it about him. You never heard him fight over money or getting the ball. A pro's pro. Sometimes, you wished he would have sounded off more, but he is an incredible husband, father, football player and teammate. That's the A.J. Green I knew."
• Green's retirement also gives us a chance to revisit the 2011 draft class.
It starts at the top. Of the top 11 picks—Cam Newton, Von Miller, Marcell Dareus, A.J. Green, Patrick Peterson, Julio Jones, Aldon Smith, Jake Locker, Tyron Smith, Blaine Gabbert and J.J. Watt—you have a handful of likely Hall of Famers (Miller, Watt, T. Smith, Jones, Peterson), two more who'll merit discussion (Newton, Green), and then two more (Dareus, A. Smith) who were immensely talented, but had off-field issues that got in the way. Really, the only two busts in the group are the second and third quarterbacks.
After that, you have Pro Bowlers from picks 14-16, in Robert Quinn, Mike Pouncey and Ryan Kerrigan, and guys like Cam Jordan and Cameron Heyward further down in the first round who, like Quinn, are still playing a dozen seasons later.
Keep going and outside the first round you have a couple of more potential Hall of Famers in Richard Sherman and Jason Kelce, and more notable names like Colin Kaepernick, Andy Dalton, Kyle Rudolph, Justin Houston, Randall Cobb and K.J. Wright. And then, there were undrafted free agents like Chris Harris and Doug Baldwin.
Pretty good year.
• The Vikings' hire of Brian Flores is a really strong one—he interviewed incredibly well with Minnesota coach Kevin O'Connell, and the two do share some background, with Flores having been a rookie Patriots coach in 2008, the year O'Connell was a rookie Patriots player. Flores had solid defenses in Miami, had a phenomenal the one year he called the defense in New England, and should benefit working in O'Connell's Rams-like program.
Minnesota was hard after Ejiro Evero, O'Connell's former staffmate from L.A., but Flores was a very solid No. 2 on the list for the Vikings.
• The 49ers' defensive coordinator search should be wrapping up soon, with ex-Panthers interim coach Steve Wilks in Monday to meet with the San Francisco brass, and Washington's Chris Harris and in-house candidate Cory Undlin still in the mix.
The 40-year-old Harris would be an intriguing hire, as I see it. He coached for Gus Bradley for three years with the Chargers, which gives him background in the defense that Robert Saleh and DeMeco Ryans ran the last six years for Kyle Shanahan, and he'd bring a former player's presence to the staff to offset the loss of Ryans. On top of that, Harris really impressed Shanahan's buddy, Matt LaFleur, when he interviewed in Green Bay for the DC job there two years ago.
If Harris doesn't get the San Francisco job, he's ticketed for a job as a defensive passing-game coordinator for Mike Vrabel in Tennessee.
• I hated seeing Myles Garrett dislocating his toe at the Pro Bowl Games in Vegas. But I'm not sure this one was really about the event itself (and I'd say it if it was). You can't bubble-wrap these guys the whole offseason, and I don't think this was an occurrence like, say, Robert Edwards blowing his leg apart in an all-rookie sand football game 24 years ago. It probably could've happened just easily in training.
• The proposed hip-drop rule seems asinine to me. The strike zone for defensive players is already very, very small. And if you make it harder to take a guy down by wrapping him up in his midsection, and you've already prohibited high hits, I'd think, in the open field, at least, you'd see more defenders diving at skill players' legs.
Personally, I think the playing surface debate is way more worthy than this one, and it makes me wonder if this is the shiny object to take attention off of it.
• One thing Derek Carr's release could do, should the Raiders fail to find a trade partner, is help define the market for teams keeping their own quarterbacks, namely the ones in New York (Daniel Jones) and Seattle (Geno Smith). Jones and Smith aren't getting top-of-the-market deals, and the trouble is, at that position, there isn't really a "B" level starter contract out there. So Carr's free agency could create a template.
• After turning over some rocks on the Saints hire of ex-Browns DC Joe Woods, the move makes a lot of sense in that it'll help take things off Dennis Allen's plate. Woods can easily handle everything in pass coverage, run defensive meetings, coach the secondary and give Allen an experienced game-planner in his defensive room. Which, on paper at least, should allow Allen more time to focus on being the head coach.