The best tricks for caring for your wooden spoons
Wooden spoons are versatile, durable and affordable, so it's no wonder they can be found in most home chefs' kitchens. However, proper care is essential to their longevity. With a few key items and easy-care steps, your kitchen spoons will last for years of use.
Shop this article: Le Creuset Revolution Solid Wooden Spoon, Ksendalo Stainless Steel Utensil Holder and T-fal Textiles Cotton Dish Towels.
Benefits of wooden spoons
Kitchen utensils for cooking are made of various materials, but few offer the benefits of wooden spoons. The natural material doesn't contain harsh chemicals and won't react with foods that have a high acid content. Wood won't damage cookware or nonstick surfaces, yet it can withstand high cooking temperatures. It's also durable and long-lasting with the right care.
Types of wood used to make wooden spoons
Wooden spoons for cooking are made from various types of hardwood, including maple, cherry, walnut and poplar. Because of its durability, beechwood is one of the most common types of spoon wood. Bamboo spoons are also available. While they stand out in terms of sustainability, this type of wood tends to splinter and wear prematurely.
Proper storage and care of wooden spoons
While wooden spoons require specific care, there are various easy storing and cleaning hacks.
Because wood is porous, bacteria can grow on it. This is more likely to occur when the material is damp. Providing ventilation when storing a wooden cooking spoon will inhibit bacterial growth. Ideally, they should be placed in a utensil storage container with an open or vented design. Another option is to hang them on hooks on a utensil rack.
Wooden spoons are not dishwasher-safe. Additionally, you should air-dry them, not leave them to soak in water. Instead, a hand wash using mild liquid dish soap keeps them clean without damaging the wood. Once washed, wooden spoons should be dried immediately using a dish towel or paper towels.
Conditioning wooden spoons with food-grade mineral oil keeps the wood from splintering or cracking. This should be done once or twice a year or whenever your wooden spoons seem especially dry.
FAQ
Q. What might happen to my wooden spoons if I clean them in my dishwasher?
A. Dishwashers work with high temperatures to clean, sanitize and dry dishes. Over time, these hot water cycles can damage wooden spoons by causing them to expand, dry out and splinter.
Q. Can you boil wooden spoons to clean them?
A. No, since boiling wooden spoons would cause damage similar to a dishwasher.
Q. How do I know when it's time to replace my old wooden spoons?
A. When used, stored and cleaned with care, wooden spoons can last a lifetime. However, if they begin to splinter, crack or develop rough spots, it's time to discard them and purchase new spoons.
Best products for storing and caring for wooden spoons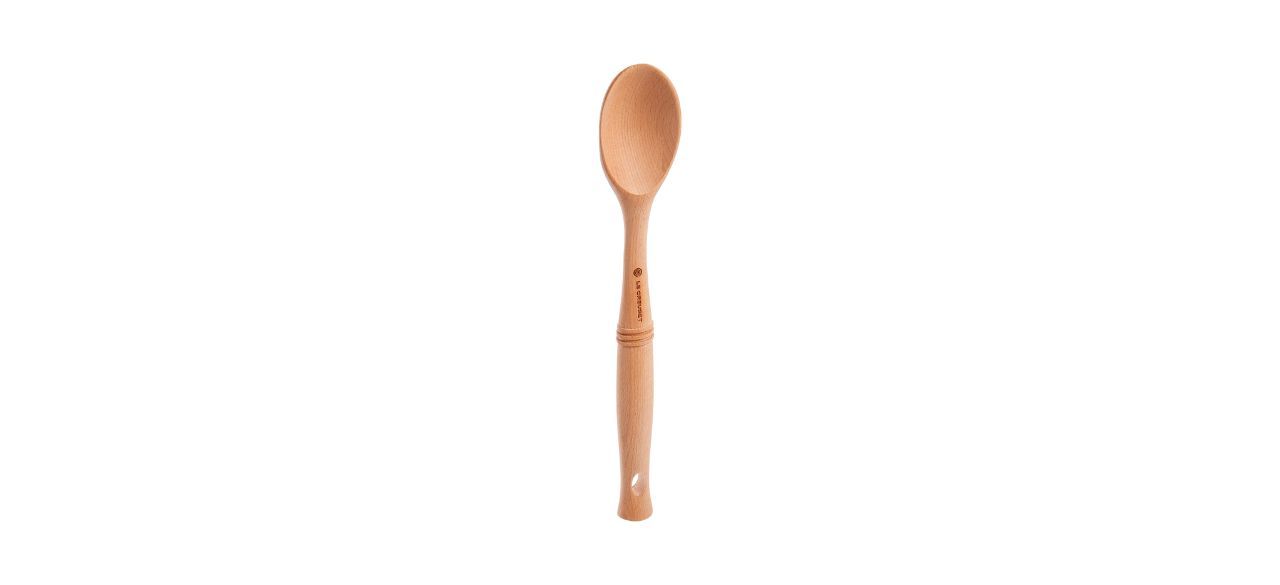 Le Creuset Revolution Solid Wooden Spoon
Crafted of beechwood, this wooden spoon has a solid build that will last for decades with proper care. The elliptical handle features grip rings for reliable control when stirring and serving.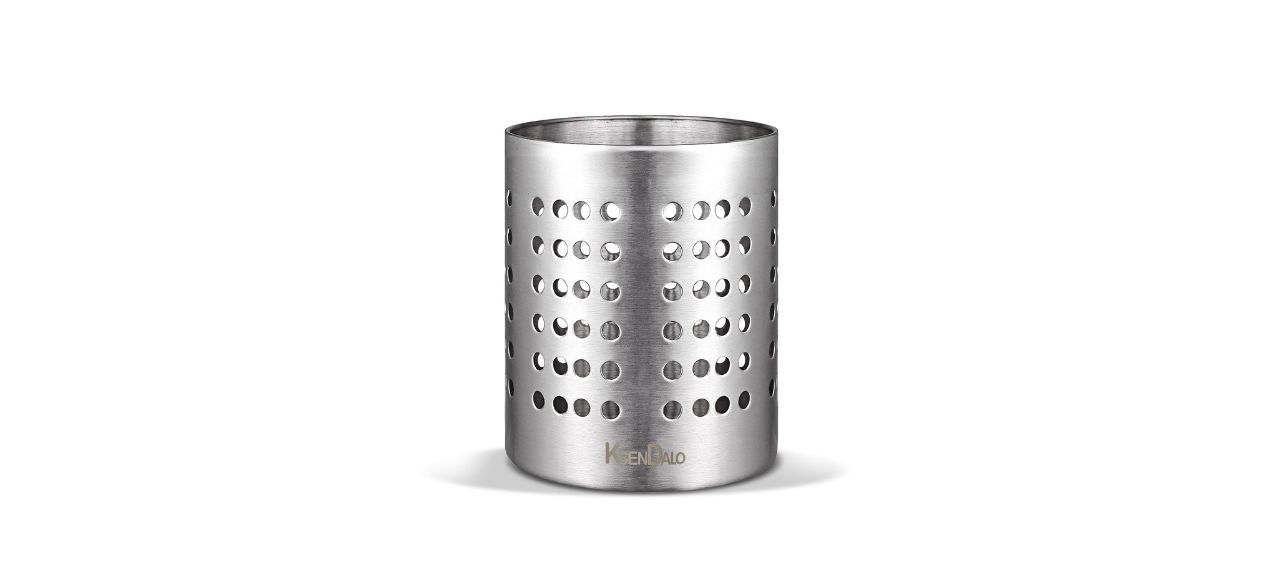 Ksendalo Stainless Steel Utensil Holder
Storing wooden spoons in a vented holder protects them from moisture and germs. One that's made of stainless steel resists rust and corrosion and looks great on your kitchen countertop.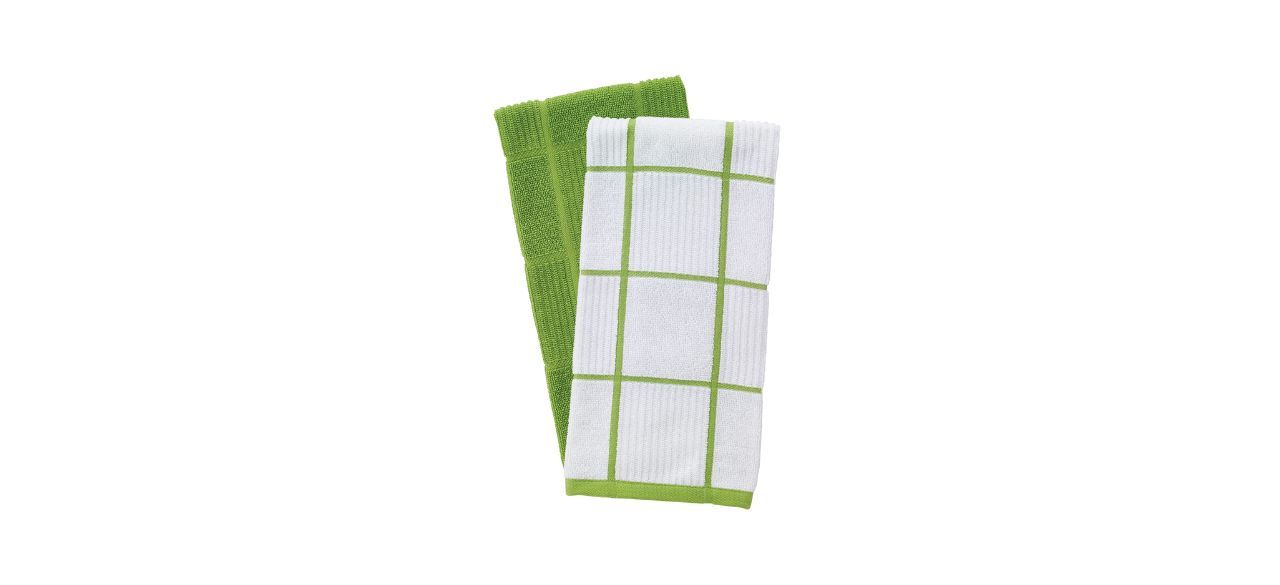 T-fal Textiles Cotton Dish Towels, Two-Pack
These absorbent towels are made of cotton that dries dishes fast and effectively. You get two towels per pack.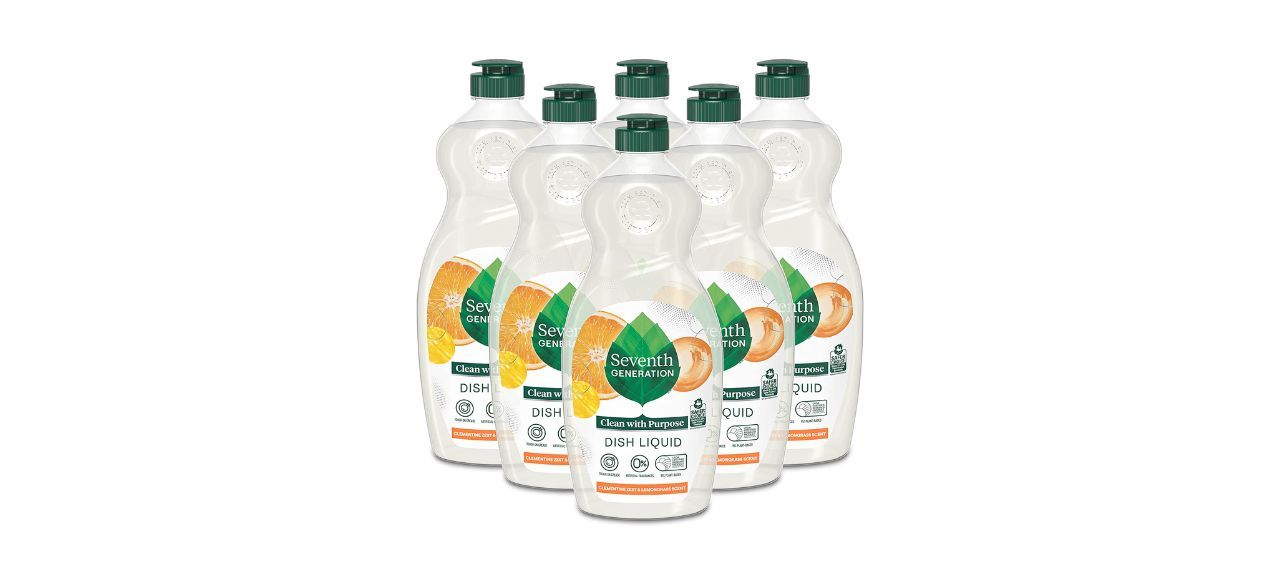 Seventh Generation Liquid Dish Soap
It's best to use gentle soap when washing wooden spoons. Seventh Generation dish soap is formulated with plant-based ingredients and doesn't contain harsh additives, such as phosphates or artificial colors.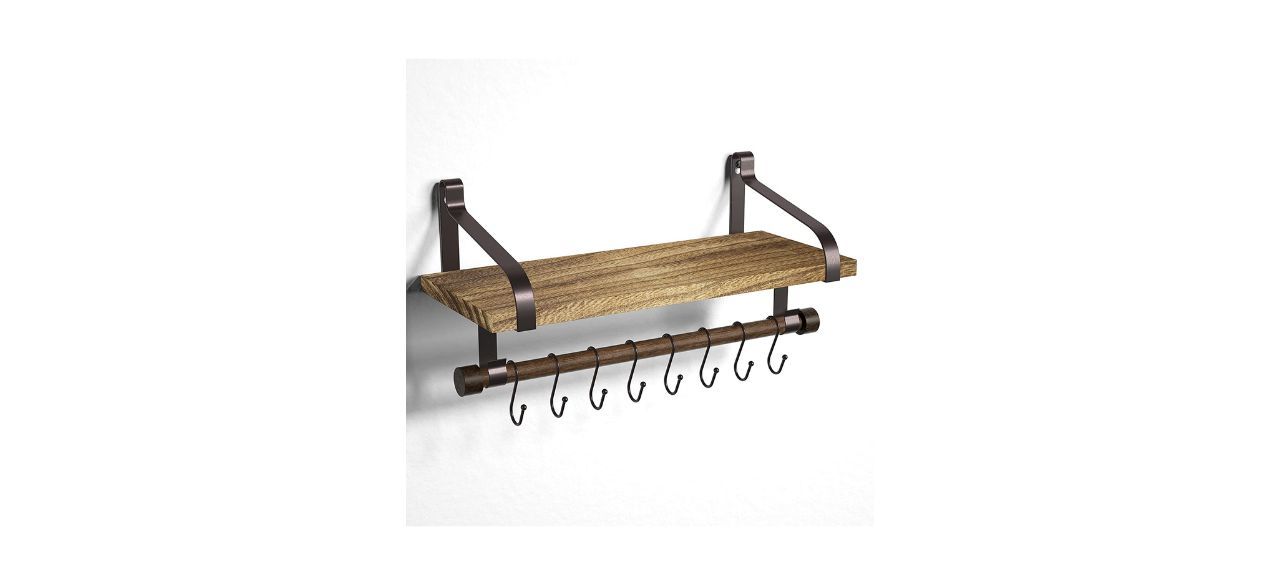 Love-Kankei Floating Shelf and Utensil Rack
If you choose to store your wooden spoons on a rack, this one is a good choice. In addition to a roomy shelf, it has eight hooks that are suitable for wooden spoons that have holes in the handles for storage.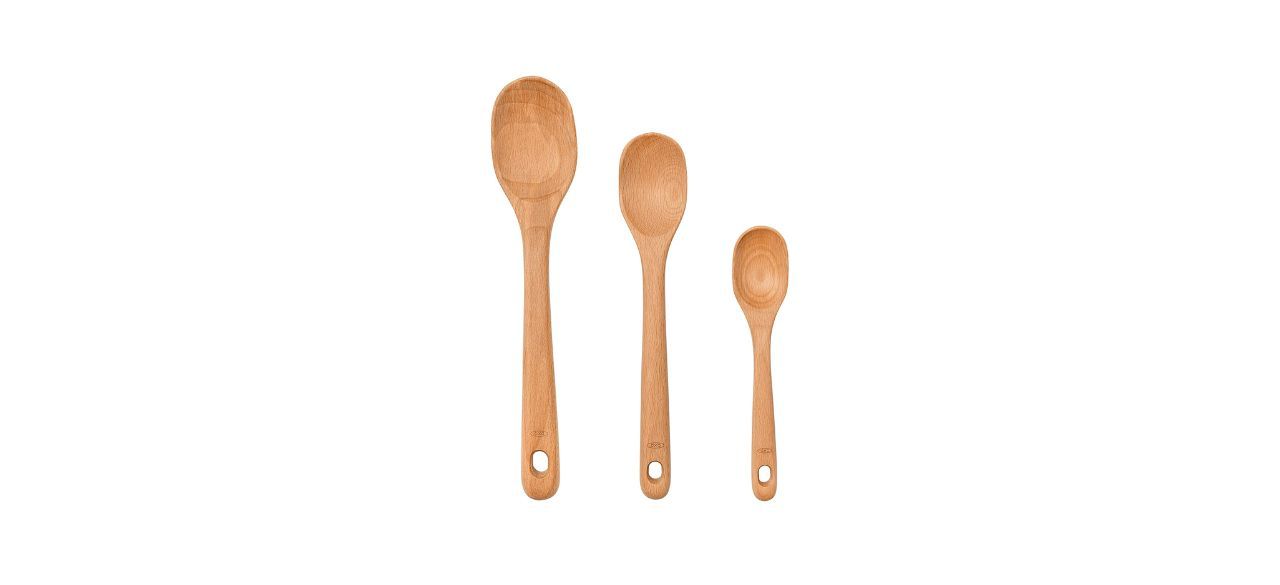 Oxo Good Grips 3-Piece Wooden Spoon Set
Affordable and versatile, this wooden spoon set features three sizes for different uses. Each one is made of beechwood that's strong and long-lasting.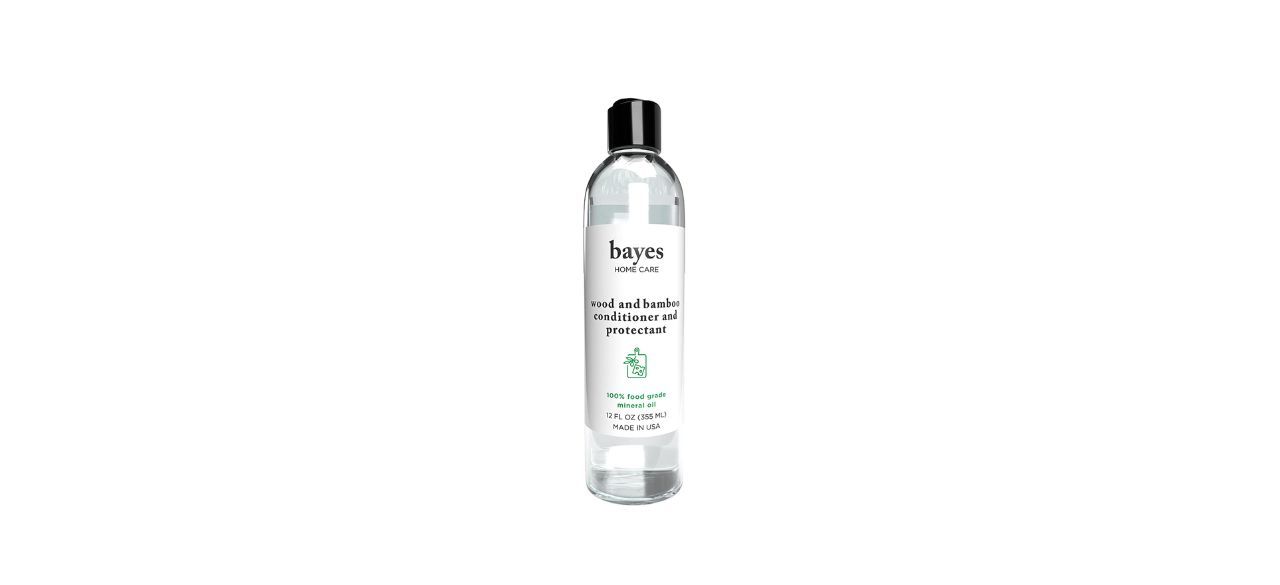 Bayes Home Care Food-Grade Mineral Oil
Conditioning your wooden spoons with pure food-grade mineral oil will add a layer of protection. Bayes is a quality oil that's made in the United States.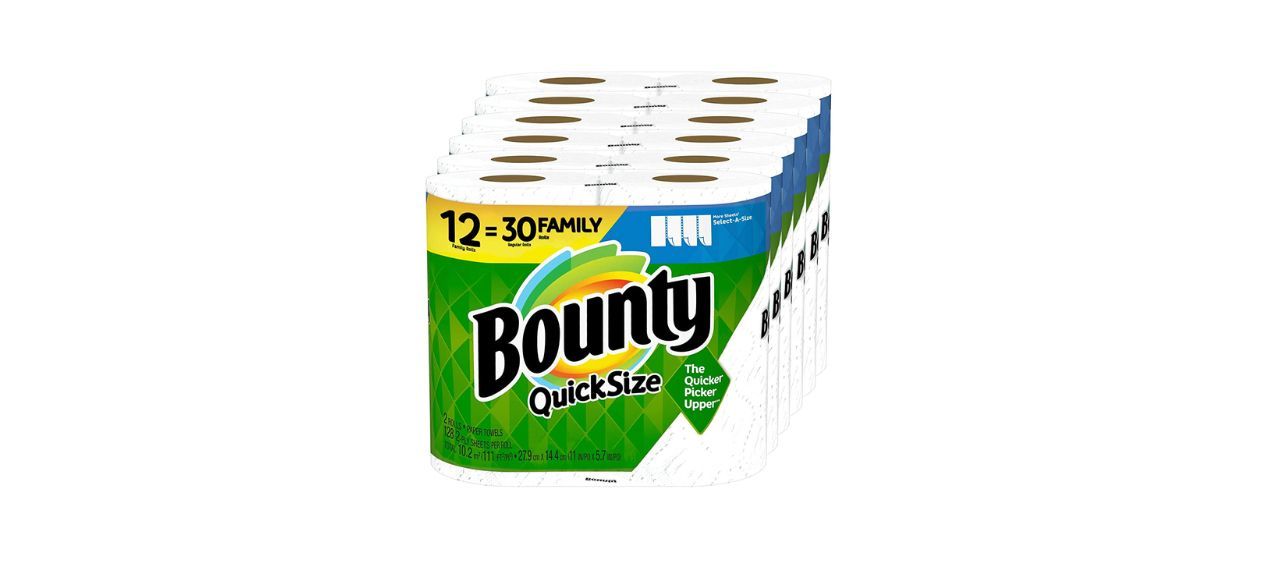 Bounty paper towels are top sellers because they're strong and absorbent. They work well for drying wooden spoons and conditioning them with mineral oil.
Want to shop the best products at the best prices? Check out Daily Deals from BestReviews.
Sign up here to receive the BestReviews weekly newsletter for useful advice on new products and noteworthy deals.
Amy Evans writes for BestReviews. BestReviews has helped millions of consumers simplify their purchasing decisions, saving them time and money.
Copyright 2023 BestReviews, a Nexstar company. All rights reserved.