Best of the Best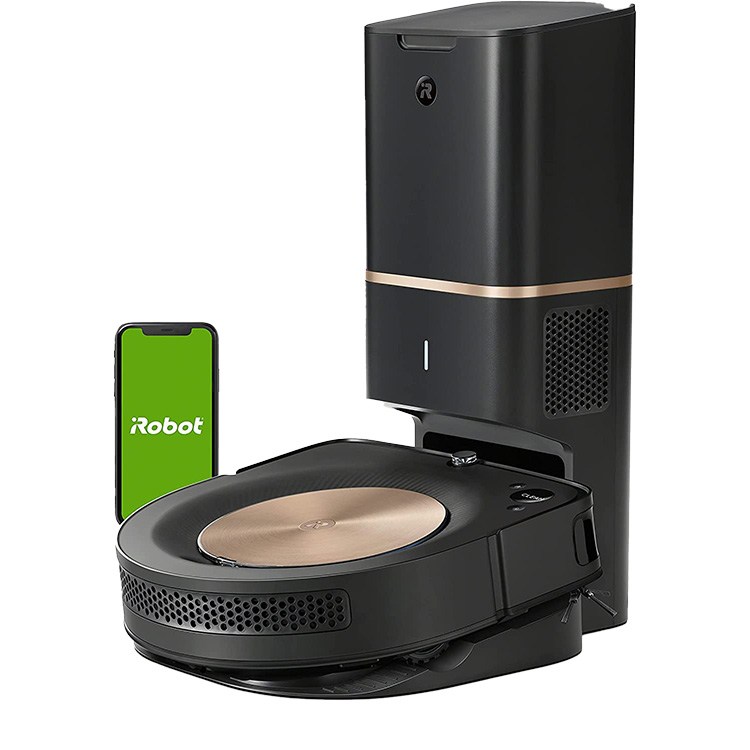 Bottom Line: Its suction power captures all types of debris on slick hardwood and even gets into corners more effectively than other robots.
Pros: It ran for over an hour and a half on a single battery charge. Its sophisticated mapping allows for cleaning specific rooms or areas. Testing revealed it transitions easily between hardwood and carpet. Its D-shape also fits easily into corners and along baseboards.
Cons: It can scatter heavier debris with its fan brush while cleaning hardwood. It is one of the most expensive models we tested.
Best Bang for the Buck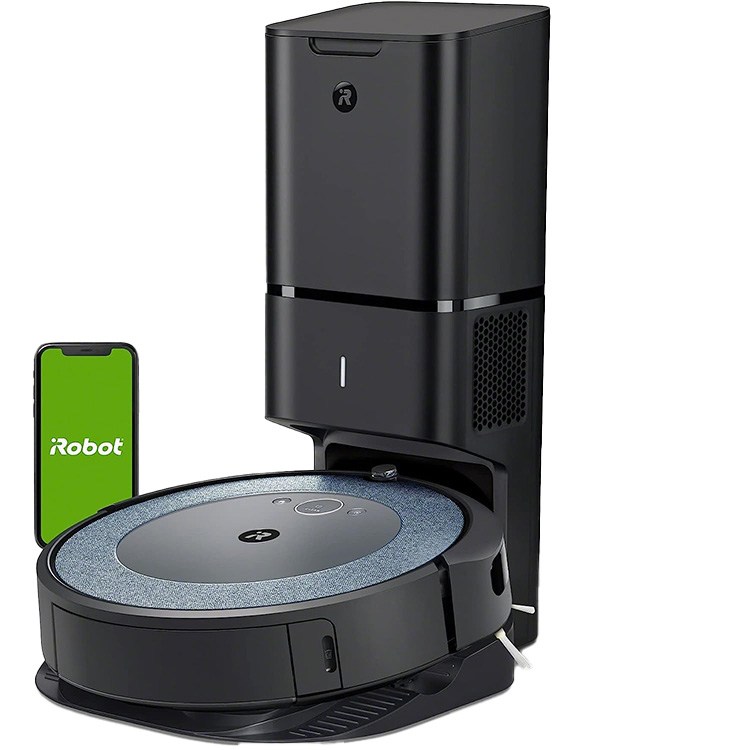 Bottom Line: This Roomba covers a large area, navigates efficiently and performs well on carpeting and hard floors.
Pros: Testing revealed that it can handle carpeting piles of various heights effectively. It works efficiently, fully cleaning 346 feet in an hour and 11 minutes. We found it was easy to clean because the rubber brushes don't tangle with hair, and the caster wheel pops out if dirt gets stuck. It cleans in neat, orderly rows rather than random routes.
Cons: It takes a bit of effort to create an accurate map of an area. It doesn't have a self-emptying base.
Also Great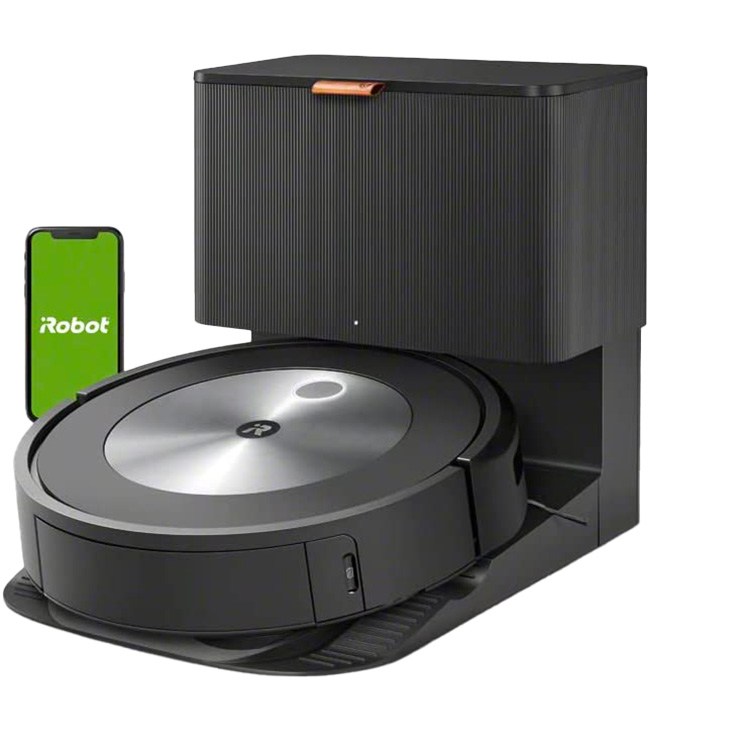 Bottom Line: With top-notch suction and tangle-free rollers, this robot removes pet hair from hardwood with ease.
Pros: We found its suction power on hardwood allows it to capture pet hair easily. It avoids obstacles in its path by swerving away from them. Its mapping is highly accurate. It is compatible with voice commands for targeted cleaning.
Cons: It can send some debris flying from its path on hardwood. Its battery doesn't last as long as other high-end Roombas.
Also Great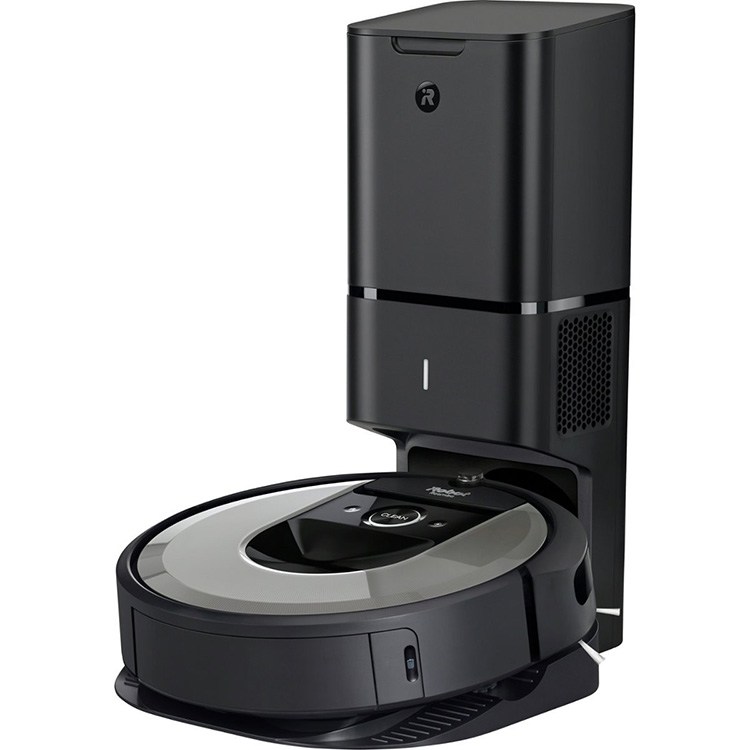 Bottom Line: This model offers smart mapping, zone cleaning and a virtual wall barrier to effectively clean multiple rooms with ease.
Pros: Its smart mapping process mapped an area of 250 square feet in just 12 minutes, making it an ideal option for people with a lot of space to cover. The included virtual wall barrier effectively keeps the robot out of areas where it shouldn't go, which is ideal for people who want to exert as much control as possible. Testing found that it performs especially well on hard flooring.
Cons: Its suction on carpeting is somewhat lacking for medium to large particles.
Also Great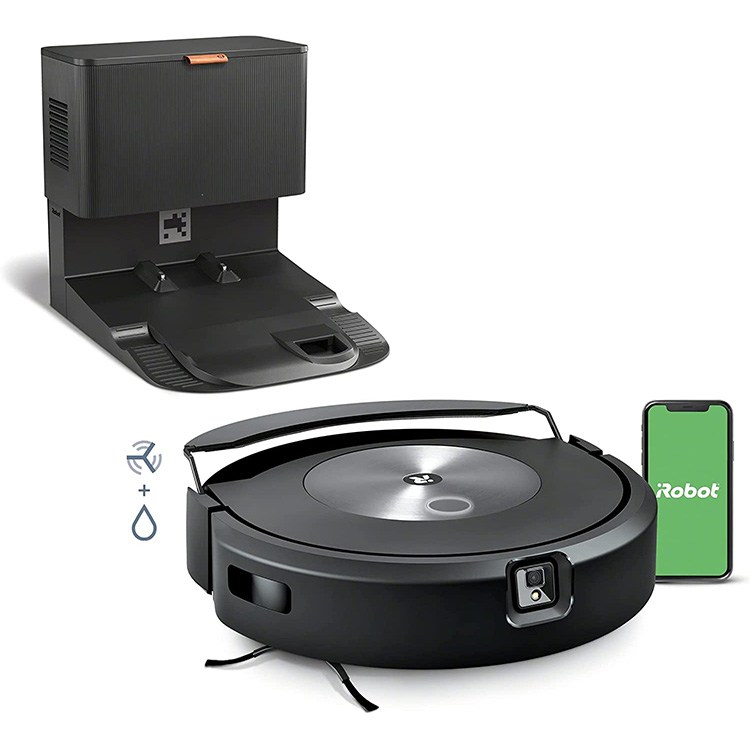 Bottom Line: This hybrid robot vacuum not only vacuums hardwood but mops without damaging it too.
Pros: Its mopping pad flips up on top of the robot to avoid scrapping or oversaturating the floor. We found it had enough suction power to suck up all but a few grains of heavier debris. It can clean with water only. Its battery can run for over 2 hours before recharging.
Cons: It doesn't have a mop-only setting. It ran into an erroneous pump error message during mopping.
Buying guide for

best Roombas

Vacuuming usually tops most homeowners' list of least favorite chores, so a Roomba — something that has become synonymous with automating a dreaded chore — has been gaining in popularity over recent years. The BestReviews Testing Lab evaluated 17 of iRobot's popular robot vacuums to identify the five best Roombas and two runner-ups. We graded each model on its ease of use, performance on carpet and hardwood, transition between flooring types and navigation capabilities. We also analyzed how well the product delivered on its manufacturer's claims.

Our testing began with setting up each Roomba to see how smooth the process went and how long it took before it was ready for vacuuming. We also studied the battery performance and evaluated the size of the dust bin to determine how long the vacuums could clean. Additionally, we tested the Roombas on different surfaces and ran specific tests with different types of particles and debris to evaluate their suction power in everyday situations.

We also tested the connected iRobot app to see how it aided the robots' performance. For models with advanced navigation features, we put them through their paces to see how well they could target clean and avoid obstacles. Finally, we considered how easy the Roombas were to empty and clean. After finishing our testing, we determined that the s9+ is the best Roomba overall.
Which Roomba model is best?
Choosing the best Roomba for your home depends on various factors, such as your budget, the size of your home and whether you have pets. We chose the best overall model for those who want peak performance in all areas, but we also identified Roombas that excel in specific situations.
Roomba s9+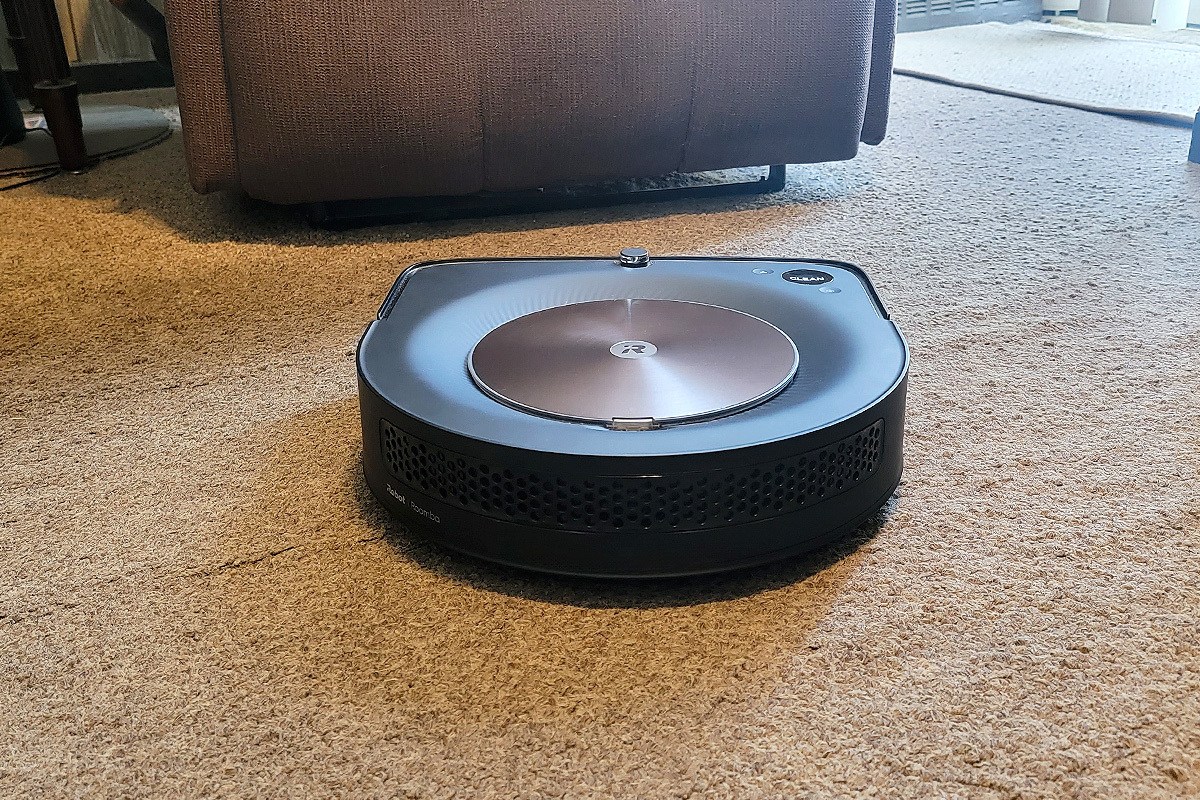 Best Overall Roomba
 
Product specifications: Battery life: 107 minutes | Dimensions: 12.25" wide x 3.5" high | Dust bin capacity: 0.5L | Weight: 8.15 lb. | Mapping: Yes | Self-emptying: Yes | Voice commands: Alexa, Google Assistant and Siri | Scheduling: Yes
Like all Roombas we've tested in our 6+ years of covering the product line, the Roomba s9+ was easy to set up — it took less than five minutes to remove it from the box, plug in the base, set it in place to charge and connect it to Wi-Fi to register with the iRobot app. The s9+ has just a few buttons for operation, but they are user-friendly and intuitive, with one marked "Clean" to send it vacuuming or pause it, another with a home icon to send it back to its base and a third for spot cleaning. While its simplicity is a virtue, it's a fairly sophisticated piece of technology that performs well in other areas as well.
We were pleased with the S9's battery life, which allowed it to clean for an hour and 47 minutes uninterrupted. But its smart mapping function is what really impressed us. It not only learned a general floor plan but also remembered specific areas and rooms. That allowed us to send it out to clean specific zones and keep it out of areas that didn't need cleaning. It could even remember certain objects and knew to avoid or clean around them. For example, we sent it to vacuum beneath a dining table.
The S9+ demonstrated excellent suction on both hard flooring and carpeting, boasting some of the best power of all the Roombas we considered. We tested it in a space with heavy pet hair, and it took care of all of it without any getting tangled around its brushes — a pesky issue for other robotic vacuums we have tested. Additionally, unlike other popular Roomba models, such as the i4 or j7+, it isn't round. Instead, it has a U-shape with a flat edge that allows it to get into corners and clean along walls more effectively. The s9+ is an excellent model if you want your Roomba to be your main vacuum or have small children and pets who create plenty of mess to clean up. We give this Roomba a 10 out of 10 for its superior suction, smart navigation features and easy-to-use design.
Read more: Roomba S9+ Review
Roomba i4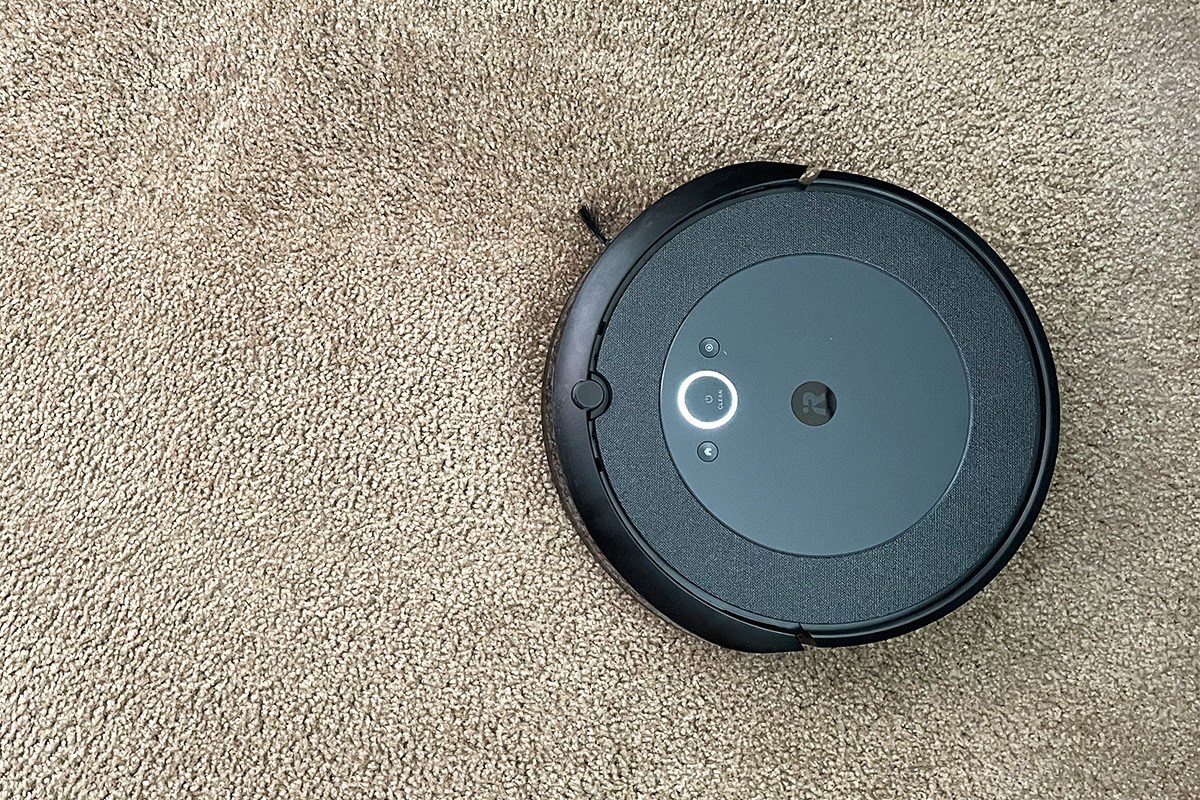 Best Roomba for the money
 
Product specifications
Battery life: 92 minutes | Dimensions: 13.26" wide x 3.3.36" high x 13.34" deep | Dust bin capacity: 0.3L | Weight: 7.44 lbs. | Mapping: Yes | Self-emptying: No | Voice commands: Alexa, Google Assistant and Siri | Scheduling: Yes
The Roomba i4, iRobot's entry-level model, provides numerous features similar to those found in higher-end models. Unlike other more affordable models, such as the 692 or 694, we found that it cleaned in orderly rows rather than random routes. With its smart mapping capabilities, it could capture an accurate map of the testing area in just two trips. We could then send the i4 out to clean specific areas like the living room.
We were surprised by how well it performed on carpeting. It could handle all pile heights and didn't get stuck even on shag rugs. It also had enough suction to remove small pieces of sewing thread from a carpet on its first pass. Testing revealed that it had solid suction power on hard flooring, but its fan brush sometimes pushed particles away from the robot. Its battery allowed it to clean for just over an hour and a half, but we didn't need to empty the bin until after more than three hours of vacuuming.
In areas with heavy dirt or traffic, the i4 performed well, relying on its Dirt Detect Technology to slow down and spiral deliberately over spots of noticeable dirt. It was also highly efficient, cleaning 346 square feet in just 1 hour and 11 minutes. It didn't come with a self-emptying dock, and emptying its dirt bin initially was tricky. However, we were pleased with how simple the cleaning process was for the i4 and found its rubber brushes less likely to get tangled with long hair than the bristled brushes on the 692 and 694. The i4 is a great option for those on a budget or who want a robot vacuum for casual, everyday use. We give it a score of 9 out of 10 for its reliable, efficient cleaning, versatility and affordable price.
Read more: Roomba i4 Review
Roomba j7+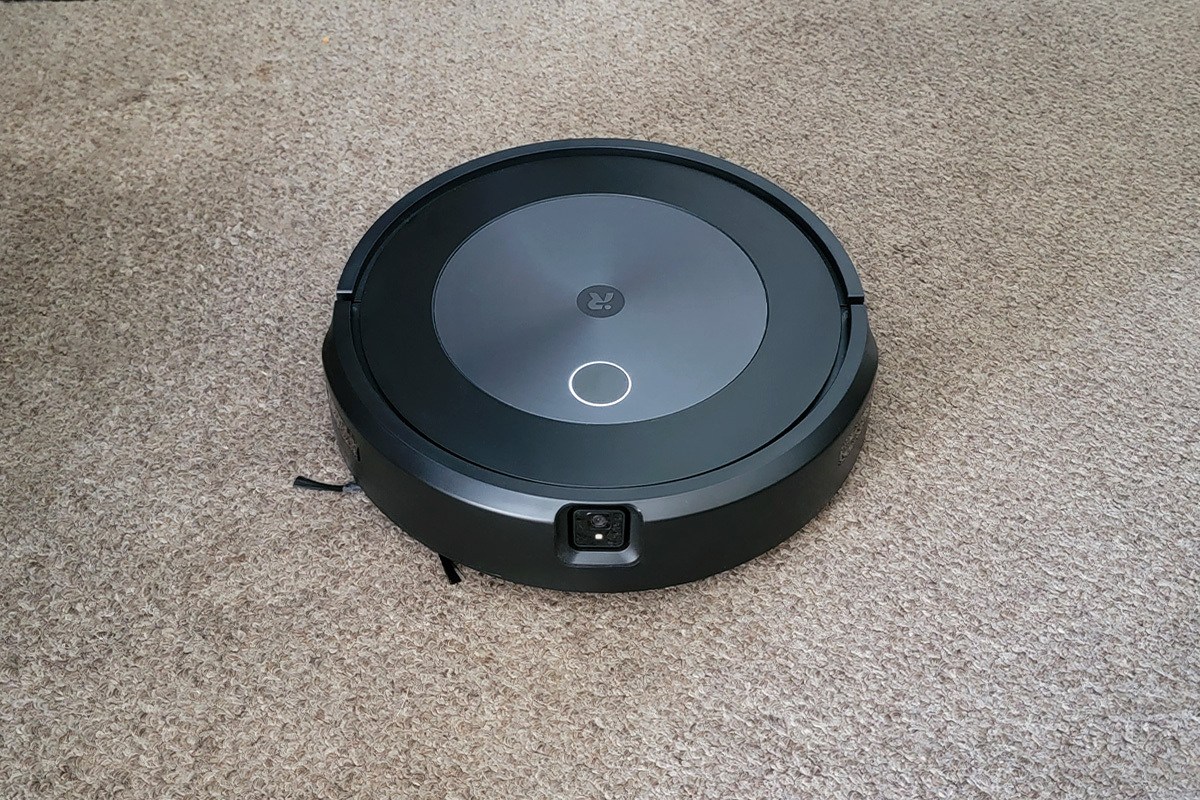 Best Roomba for pets
 
Product specifications
Battery life: 97 minutes | Dimensions: 13.3" width x 3.4" high | Dust bin capacity: 0.4L | Weight: 7.49 lbs. | Mapping: Yes | Self-emptying: Yes | Voice commands: Alexa, Google Assistant and Siri | Scheduling: Yes
The Roomba j7+ is designed with pet owners in mind, and we found that it delivers on everything it claims it will. We tested its ability to pick up pet hair both on hard flooring and carpeting. In both cases, the j7+ captured all the hair in a single pass. Its suction power put it in the top tier of the Roombas we tested, though it took longer to clean an entire area than a traditional vacuum would. Still, we were impressed by its efficiency, which allowed it to clean a 320-square-foot room in just 53 minutes.
The j7+ features rubber brushes that are supposed to prevent pet hair from becoming tangled around them. When we cleaned the robot after it completed a vacuuming run, we observed no hair or fibers around the brushes. We couldn't test the j7+'s ability to avoid pet accidents on purpose — because we like to test products in real-world situations, and there's no real-world situation where a pet owner would intentionally facilitate an accident — but we did find that it avoided obstacles more effectively than the other models we tested. We placed a purse and a stuffed pet toy in its path to observe its reactions, and both times, it sensed the item and swerved around it.
The j7+ offered 97 minutes of battery life, which put it in the middle of the pack. However, that was enough time to clean an entire floor and return to its base for charging. We also found it was easy to pair it with Alexa for voice control. It responded well to various commands, including "Start vacuuming" and "Vacuum the living room." Overall, we give this model a 9 out of 10 for its strong suction, tangle-free brushes and astute obstacle avoidance.
Read more: Roomba J7+ Review
Roomba i8+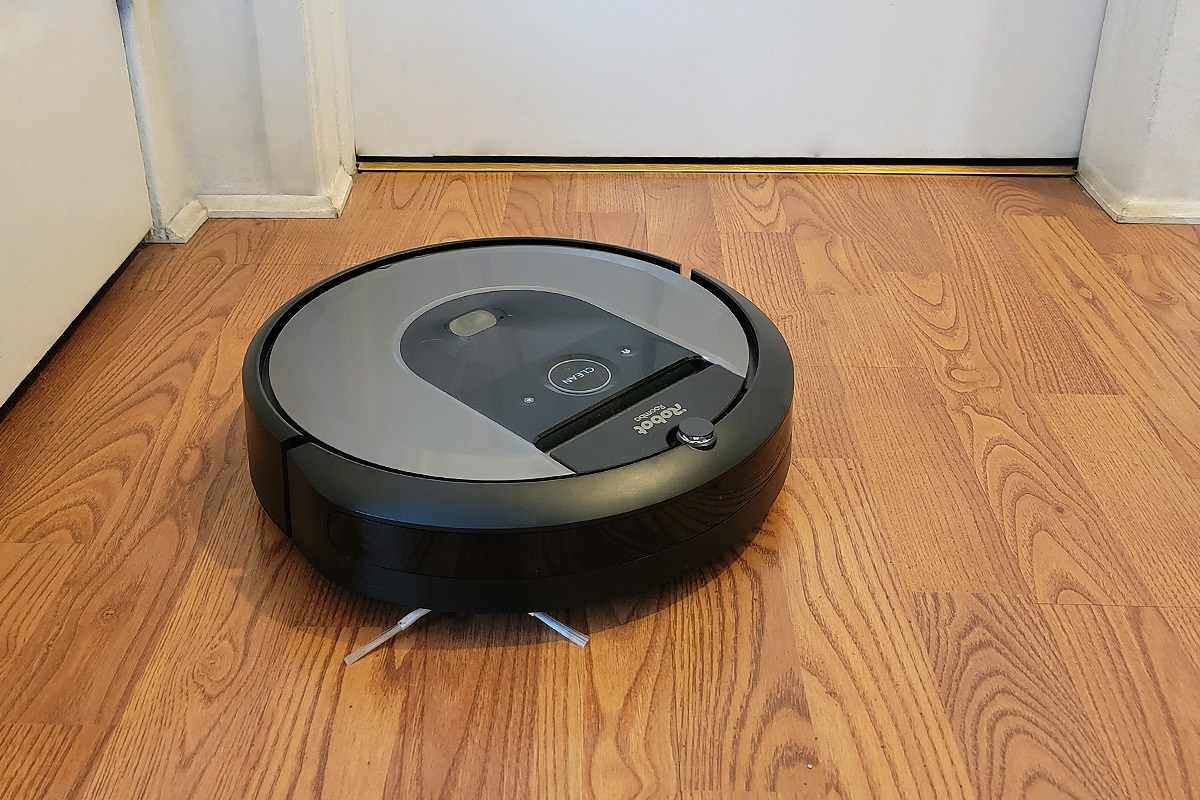 Best Roomba for a large home
Product specifications
Battery life: 89 minutes | Dimensions: 13.3" width x 3.4" high | Dust bin capacity: 0.4L | Weight: 7.44 lbs. | Mapping: Yes | Self-emptying: Yes | Voice commands: Alexa, Google Assistant and Siri | Scheduling: Yes
The Roomba i8+ is equipped with smart mapping technology, so it learns your home's floor plan and can recognize specific rooms and areas. We sent it out on a mapping run before it cleaned for the first time, and though it only had a 250-square-foot area to map, it created an accurate map in just 12 minutes. When we sent it out to clean that same space, the i8+ vacuumed the entire room in just 27 minutes, making it our favorite Roomba for large homes. Testing also revealed it could vacuum for 89 minutes before running out of power, so it can clean a large area on a single charge.
In addition to smart mapping, the i8+ offers other advanced navigation features. During testing, we created Clean Zones and Keep Out Zones with the iRobot app to direct the Roomba where to vacuum. It followed our guidelines and even responded to voice commands to clean specific areas, including beneath a dining table and around a chair. This model also came with a virtual wall barrier that we used to keep it out of a cluttered laundry area. It responded to the barrier, staying out of the space on its run. However, we didn't have as much luck with the virtual wall barrier's halo feature, which is designed to create a circular boundary for the robot to observe. We set it up around pet water bowls to keep the Roomba away, but it bumped into them anyway.
We discovered that the i8+ had solid suction power but performed better on hard flooring than carpeting. It removed a large clump of pet hair from a medium-pile carpet during testing, but it sometimes required a second pass to pick up all of the debris during routine cleaning. While it sucks in dirt from hard floors more effectively, its side brushes can sometimes push larger debris particles like cereal out of its path where it can't reach them. We rated this robot a 8 out of 10 for its ease of use, excellent navigation features and focused cleaning options.
Roomba j7+ Combo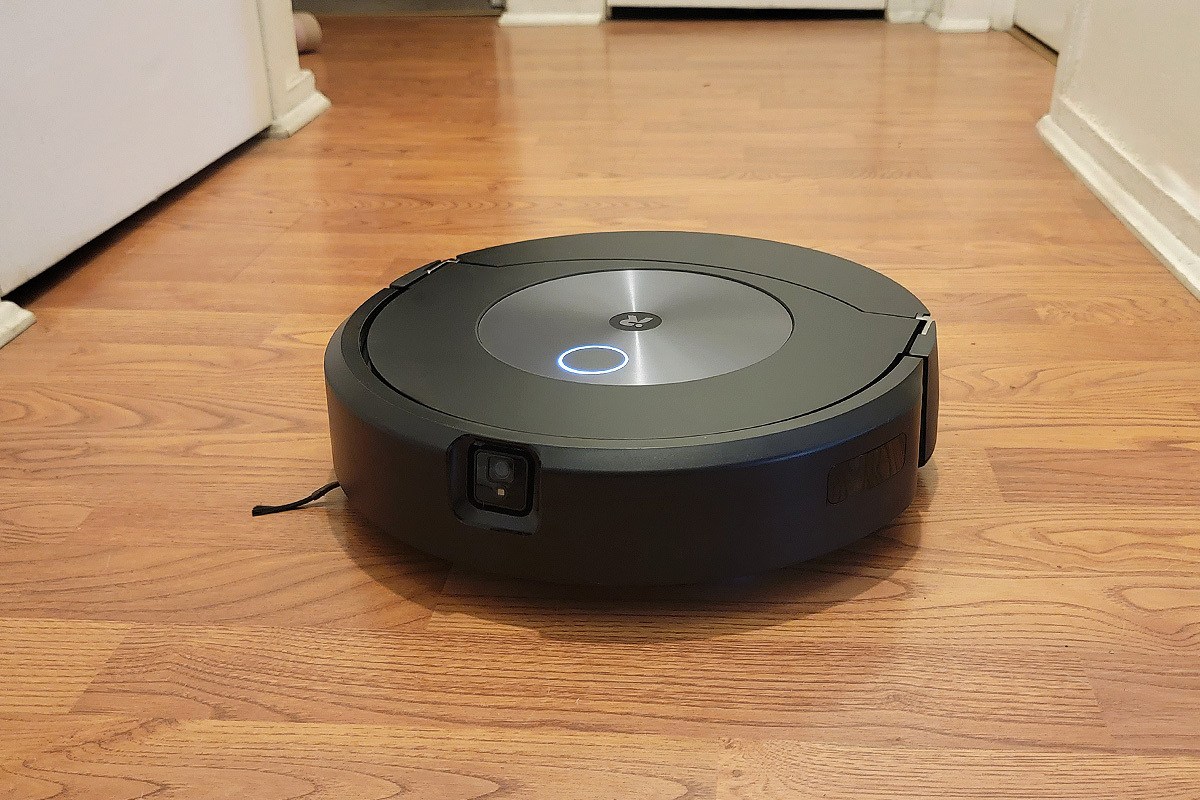 Best Roomba for hybrid cleaning
Product specifications
Battery life: 128 minutes | Dimensions: 13.3" width x 3.4" high | Dust bin capacity: 0.4L | Water tank capacity: 0.48L | Weight: 7.35 lbs. | Mapping: Yes | Self-emptying: Yes | Voice commands: Alexa, Google Assistant and Siri | Scheduling: Yes
The Roomba j7+ Combo stands out as the only vacuum/mop hybrid in the iRobot line. It offered the same features as the j7+, but it vacuums and mops simultaneously with a reusable mopping pad that fully retracts away from carpeting. Because of the mopping feature, we first sent the robot on a mapping run to learn which floors were carpeted and which were hard surfaces. It took just 34 minutes to map an entire floor with five rooms, correctly identifying all the surfaces and areas. We were also highly impressed by its battery life — it ran for two hours and seven minutes before it needed recharging, the longest of all of the models we tested.
Like the j7+, the j7+ Combo offered solid performance on carpeting. During testing, it picked up pet hair without any issues. However, it sometimes required two passes to capture debris like kitty litter and cereal. In its mopping mode, it cleaned up spilled iced tea without leaving any sticky residue. We also noticed it completely removed a stubborn sticky spot on laminate flooring on a routine cleaning run. Additionally, it demonstrated excellent obstacle avoidance during testing. It pivoted away from a shoe we placed in its path and a stuffed dog toy. For those with pets, we were pleased that its rubber brushes didn't become tangled with hair even in a testing area with two dogs, though we did remove a few strands afterward.
In addition, the j7+ offered pretty efficient cleaning. It vacuumed and mopped a 320-square-foot area in 52 minutes. This efficiency makes it ideal for those who don't have much time to maintain their floors but want the most thorough clean possible. We scored it of 8 out of 10 for its versatility, top-notch mapping and navigation and impressive battery life.
Roomba i1+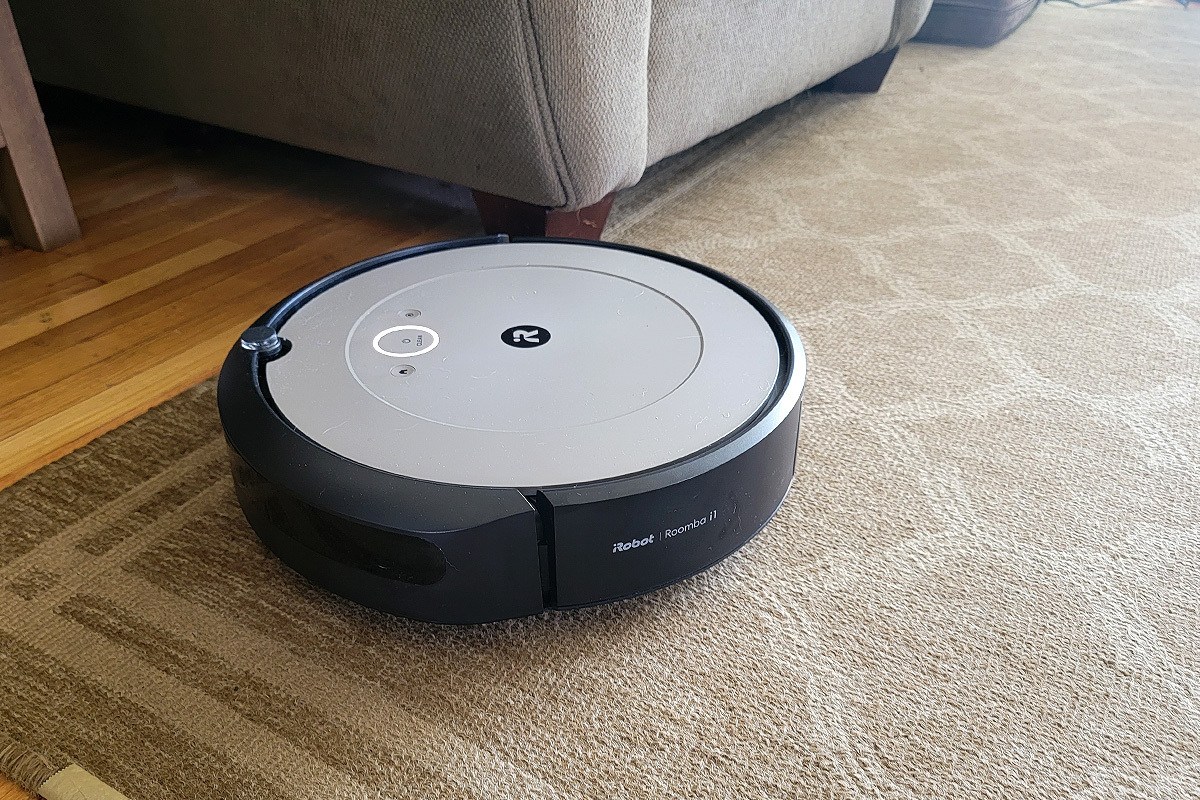 Best no-frills Roomba
Product specifications
Battery life: 92 minutes | Dimensions: 13.5" width x 3.6" high | Dust bin capacity: 0.4L | Weight: 7.44 lbs. | Mapping: Yes | Self-emptying: Yes | Voice commands: Alexa, Google Assistant and Siri | Scheduling: Yes
The Roomba i1+ is an entry-level model from iRobot that still offers many convenient features at a lower price. Unlike other lower-tier models, such as the i4, it is self-emptying. It comes with a Clean Base that automatically removes the dirt from the robot's internal dust bin when it's full. During testing, the i1+ ran for 37 minutes before the bin was full. It returned to the base and emptied itself, though, so the robot continued cleaning uninterrupted. The battery life is surprisingly good, too — this model ran for 92 minutes before it needed recharging. The model was also easy to use, so even those new to robot vacuums wouldn't find it too intimidating.
While the i1+ can learn a space, it doesn't have smart mapping like the s9+, j7+, or i8+, so it doesn't identify specific zones. Instead, it cleaned in neat, orderly rows. During testing, we found this slowed the cleaning process, so it took 54 minutes to clean 255 square feet.
However, while it works more slowly and can't clean specific rooms, it does work with voice commands with a home assistant. We tested several voice commands, including "Start vacuuming" and "Pause vacuuming," and found the robot very responsive.
Testing also revealed that the i1+ had solid suction power for an entry-level model. It performed better on hard flooring than carpeting, but it could remove most pet hair and small-to-medium particles like kosher salt. We were also pleased to find that pet hair didn't get tangled around its brushes. We only had to remove a few pieces, even though the robot was tested in space that housed two medium-to-large dogs. Overall, we score this Roomba a 7 out of 10 for its user-friendly operation, solid suction and affordable price.
Read more: Roomba i1+ Review
iRobot Braava Jet m6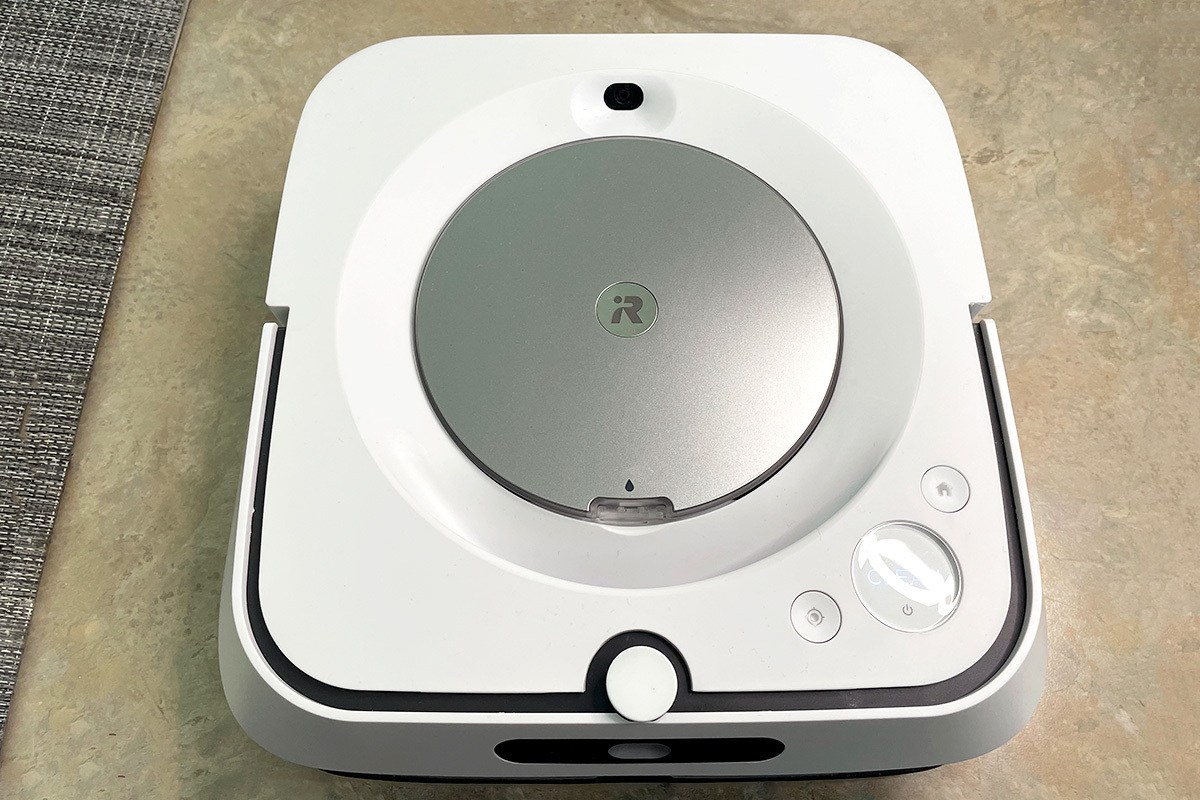 Best Roomba for mopping
Product specifications
Battery life: 64 minutes | Dimensions: 10.6" width x 3.5" high | Water tank capacity: 0.48L | Weight: 4.85 lbs. | Mapping: Yes | Self-emptying: N/A | Voice commands: Alexa, Google Assistant and Siri | Scheduling: Yes
While the other Roombas we tested were all robot vacuums or a robot vacuum/mop hybrid, the iRobot Braava Jet m6 is the only robot mop on our list. Like the robot vacuums, though, it maps an area to learn the layout. During testing, it took just five minutes to successfully map two rooms. Once the rooms were mapped, the m6 also mopped with high efficiency, taking just 8 minutes to wet mop 19 square feet in a kitchen and 14 minutes to wet mop 24 square feet in a bathroom. We also found that it could run for 64 minutes without fully draining its battery. The mop can wet and dry mop, too, depending on your needs.
We tested the Braava Jet m6 on hardwood and vinyl plank floors and found it works well on both surfaces. However, the mop had an easier time with non-sticky, non-oily messes, such as spilled water. It fully absorbed grape juice but spread a film of the liquid around, so the entire floor smelled of the juice afterward. When it cleaned spilled cooking oil, the mop absorbed it neatly but left a noticeable film because the wet pad spread it across the floor. Fortunately, replacing the pad right after it absorbed the liquids prevented these issues. So it does require you to keep an eye on it during operation. Additionally, we were impressed by the Braava Jet m6's ability to clean in corners, along walls and around furniture, which it did better than some Roomba robot vacuums like the 692 and 694. The mop's jet spray also maintained its spray pattern and didn't overspray during testing.
While the Braava Jet m6 was fairly easy to use, we found that there was something of a learning curve to filling the tank and choosing the right pad and cleaning solution. But we appreciate that you can choose from reusable or disposable pads. We give the m6 a score of 7 out of 10 on the strength of its impressive navigation, efficiency and overall convenience.
Read more: Braava Jet m6 Review
How we tested
To identify the best Roomba for our readers, we spared no effort in our in-depth testing process guided by the BestReviews Testing Lab. We began with testing that could provide quantifiable metrics, so we started the robots with full batteries and monitored how long they ran before they needed recharging. Afterward, we observed how long it took for the batteries to fully recharge. We also emptied the Roomba's dust bins and noted how long they could vacuum before they were full. Finally, we tested how long it took each model to fully clean a room, noting both the time and the square footage of the space.
Additionally, we examined how the Roombas handled specific types of messes. We placed small to medium-sized particulates like kosher salt or coffee grounds, kitty litter, pet hair or thread and cereal on both hard flooring and carpeting and observed how well they could clean up the debris. We also tested how well the robots transitioned from one flooring type to another and how well they reacted when small objects like a backpack or a pet toy were placed in their paths.
In addition to these specific tests, we sent the robots out on routine cleaning runs to record general impressions of how they performed in everyday conditions. We also considered how noisy each model was and how easy they were to empty and clean. For models with smart mapping and voice commands, we explored how well these features worked and the value they added to the Roombas' overall performance.
Benefits of using an iRobot Roomba
For many people, the main draw is the time that it can save in one's house cleaning routine. Because it cleans on its own, you can move on to other cleaning chores while it's doing the vacuuming for you. With the connected app, you can even send your Roomba out to clean while at work or running errands. The scheduling feature also lets you select a regular time to clean on a weekly or daily basis, depending on your needs.
A Roomba is also a perfect vacuum option for anyone with limited mobility. You don't have to push or carry it anywhere, and because it cleans on its own, you don't have to stand at all to vacuum your home.
The Roomba can also easily go under most furniture so you never have to worry about dust bunnies or pet hair collecting under your couch again. Just keep in mind that because of its small size and design, unfortunately, a Roomba cannot provide a deep clean, especially on carpeting. Ketia Daniel, our cleaning expert, recommends a dual-cleaning strategy for carpet: a Roomba for daily spruce-up cleaning and a full-sized vacuum with the power and filtration for a weekly deep clean to protect your flooring investment and your health.
iRobot Roomba features to consider
When trying to find the best Roomba for your cleaning needs, it helps to understand your options. Some features are standard in all models, but you can find more advanced technology and settings in premium Roombas.
Suction power
When shopping for a Roomba, the first thing to consider is the flooring you'll use it on. Carpeting requires greater suction to lift debris from its fibers, while hard flooring doesn't need such powerful suction because the dirt sits right on its surface.
All Roombas are advertised as effective for all floor types, including hardwood, tile and carpeting because their cleaning heads automatically adjust to keep their brushes in close contact with the floor surface. However, some models are better suited for carpeting than others because they feature superior suction power. Models like the i4 and j7+ offer 10 times the suction power as standard models, such as the 694. For the most power, the s9+ delivers an impressive 40 times the standard suction.
The improved suction allows these Roombas to pull dirt, debris and even pet hair out of carpeting for a more thorough cleaning. For example, during testing, we found that the s9+ could pick up a wad of pet hair from carpeting without leaving a single strand behind. The j7+ performed similarly, removing all the pet hair in a single pass. In a test with small lengths of cut thread, the i4 also showed effective suction on carpeting, removing most of the pieces on its first pass.
3-stage cleaning
All Roomba models feature a patented 3-stage cleaning system. The vacuums loosen, lift, and suction dirt and debris to clean your floors effectively. They feature two multi-surface brushes, which work together to thoroughly clean your floors. The first brush agitates the floor surface to loosen and lift embedded dirt, while the second brush directs the debris under the Roomba to ensure it is pulled in by the suction channel. Roombas also have an edge-sweeping brush that helps remove dirt from corners and edges.
However, some models clean more effectively because this 3-stage cleaning system is paired with stronger suction power. For the most complete clean, you may want to opt for a higher-end Roomba model, such as the s9+ or j7+.
Battery life
All Roomba vacuums operate on a battery, but not all batteries provide the same cleaning time.
Some Roombas, such as the 692 and 694, are equipped with batteries that have 70 to 75 minutes of run time, while other mid-range models, like the i4, have a 90-minute battery life. For the longest-running Roomba, look for a model with a battery life of about 100 minutes, such as the j7+ Combo or s9+.
Self-charging capabilities
Every Roomba model has a self-charging feature, which means that they will automatically return to their docking station to charge when they're running low on power.
They won't go back to cleaning on their own, though, so you'll need to set the vacuum back to cleaning again once it's done charging.
However, some Roomba series like the i, j and s have a Recharge and Resume feature. It allows the vacuum to return to the docking station when it needs to charge but immediately pick up the cleaning job where it left off once it's fully charged.
Mapping and navigation
Roombas utilize responsive navigation and sensors to create a high-efficiency cleaning pattern that allows them to move around furniture and other clutter without missing a beat. But while they can all learn your home to determine the best way to clean, some models offer better navigation and mapping features than others.
The best Roombas have smart mapping capabilities, which enables them to remember specific areas and rooms in your home for more targeted cleaning. Models like the s9+, i7, i3+ EVO, i8+, m6 and j7+ feature camera-aided navigation and can go on mapping runs to learn your home's floor plan. They will designate most rooms on their own, but you can go into the app and rename areas or move dividers for improved accuracy.
For example, during testing, we sent the j7+ out on a mapping run before it vacuumed to help it learn the floor plan. It successfully mapped five rooms, accurately identifying all but one. To give the unidentified space a title, we only had to go into the iRobot app and add its name.
In addition to cleaning specific rooms, some models with smart mapping, like the s9+ and the j7+, let you create Clean Zones and Keep Out Zones in your home to target your cleaning. During testing with the s9+, we created a Keep Out Zone around pet bowls to avoid spills. The Roomba successfully avoided the bowls but effectively cleaned the rest of the space.
You can even find some models, such as the j7+ and j7+ Combo, that can detect and avoid certain objects. These objects are also added to the Roomba's map, so it knows to avoid them in the future.
Automatic dirt disposal
Roombas have an internal bin that holds all the dirt, dust, pet dander and other debris they collect during cleaning. The bin is easy to remove and empty into your trash can, but it can sometimes get messy. Also, a Roomba will stop vacuuming when its bin is full and won't continue until you dispose of the dirt.
To avoid having to come into contact with mess — and allow vacuuming to continue uninterrupted — some Roomba models like the i1+, j7+ Combo and s9+ are equipped with a Clean Base that contains a dirt disposal bag that can hold up to 60 days' worth of dirt, dust and pet hair. These Roombas automatically empty their bins at the end of a cleaning session and return to the base during vacuuming to empty the bin when it's full. That means a vacuuming session is never interrupted by a full bin you're unaware of.
For a simple way to know if the Roomba you're considering has a cleaning base, check for a "+" in the name.
Controls and scheduling
Every Roomba is Wi-Fi connected, which allows you to control your vacuum wirelessly with the Roomba app on your smartphone or tablet. That way, if you're out running errands, you can turn the Roomba on to clean while you're on the go so it's done before you are back home.
You can also schedule your Roomba to clean the house at a designated time with the app. For example, we set up the j7+ to clean the kitchen and living at two specific times during the day, and it automatically went out to vacuum at the scheduled times without us needing to do a thing.
The app also allows you to check the Roomba's cleaning history so you can be sure that certain areas of your home have been cleaned recently.
Voice commands
You can integrate your Roomba into your smart home setup by connecting them with a smart assistant, such as Alexa or Google Assistant. Once you register your Roomba, you can use voice commands to clean your home on-demand.
For example, you can say, "Alexa, ask Roomba to start vacuuming," or "Hey Google, pause vacuuming." Advanced models, such as the s9+ and the 7+, offer a broader range of voice commands, such as cleaning a specific room or around a certain piece of furniture.
Mopping
Having a robot vacuum to suck up dirt, dust and pet hair around your home is certainly convenient, but a model that can also handle wet and sticky messes may be even more of a time-saver.
The j7+ Combo is a hybrid Roomba that both vacuums and mops throughout your home. We sent it out on a mapping run before cleaning, so it could learn which areas were carpeted and which featured hard flooring. It then vacuumed and mopped simultaneously without wetting any of the carpeted surfaces.
If a hybrid model isn't for you, you can also opt for a robot mop like the iRobot Braava Jet M6 to pair with your Roomba.
Tangle-free extractors
If you have a pet, opt for a Roomba model equipped with tangle-free extractors, such as the Combo j7+, j7+, i4, i8+ and s9+. These extractors help lift pet fur, hair, and other fibers from the floor without allowing them to become entangled in the Roomba's brushes. Instead of traditional bristle brushes, which pet hair tends to get caught up in, these models have rubber brushes. The flexible design of the brushes prevents hair from wrapping around them and getting stuck.
In a house with a lot of pet dander, the tangle-free roller will keep your Roomba from stalling so it can continue to work as efficiently as possible.
High-efficiency filter
If you or another household member suffer from allergies, you'll want a Roomba fitted with a high-efficiency filter like the j7+ or s9+. The filter can capture 99 percent of allergens, pollen, and particles that are as small as 10 microns to limit the dander in your home.
Clean map reports
Some Roombas, like the i3+, i8+ and s9+, provide Clean Map reports. These maps provide a visual representation of where your Roomba has cleaned by marking out the areas with light green. You can also see any spots the vacuum missed, which are colored white on the map.
Clean Map reports also show you where the Roomba detected high concentrations of dirt, marking these areas with dark green dots. This information can help you clean more thoroughly because you can send your robot out to vacuum those spots often. This feature can come in handy in a home with small children and/or pets, where there may be crumbs, hair and other debris you're unaware of.
Custom cleaning preferences
If you're very particular about how clean your floors are and don't trust an automatic vacuum to get the job done as precisely as you'd like, choose a Roomba model that provides custom cleaning preferences, such as the s9+ or j7+.
With the custom cleaning preferences, you can adjust various settings, including the number of cleaning passes and the suction power. It's easy to do in the iRobot app, so you can create a customized cleaning plan even when you're away from home.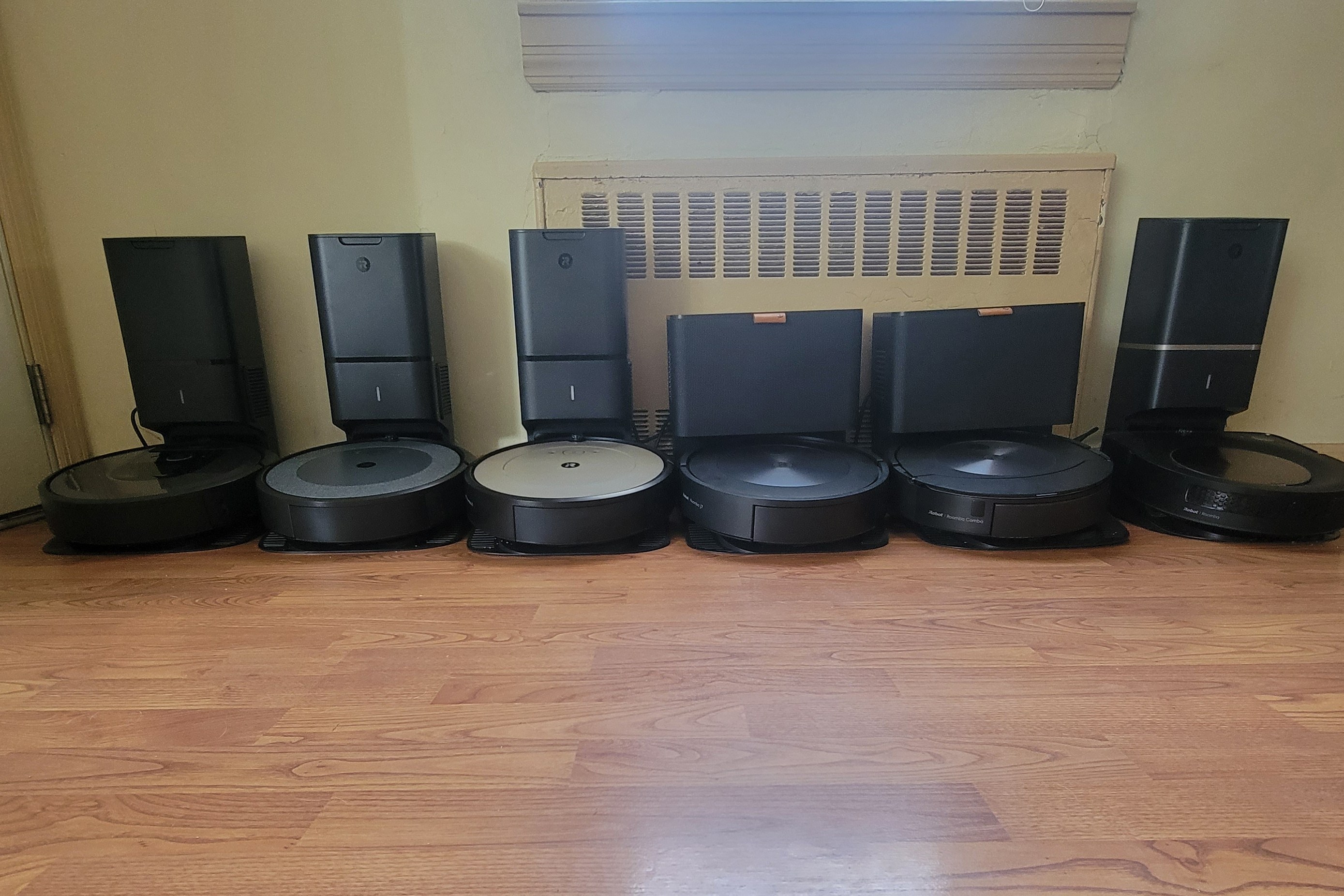 How much do Roombas cost?
Purchasing a Roomba is a costly investment, so it's important to shop carefully. Typically, you'll pay between $200 and $1000 for one.
If you plan to only use the Roomba for maintenance work and still rely on a traditional vacuum to do the heavy lifting when it comes to cleaning your floors, opt for a basic model like the 694 or i1+ that costs around $275.
If you're relying on your Roomba to do most of the floor cleaning in your home and want improved navigation, a mid-tier model like the i3+ EVO or i4 is a better fit. These Roombas generally cost between $400 and $550.
If you want a model that can do all of the floor cleaning in your home and offers the most sophisticated navigation, you'll want to choose a higher-end option like the j7+ or s9+ that is equipped with features that allow for more thorough cleaning. Expect to spend between $800 and $1000.
How to clean a Roomba
The exact process for cleaning a Roomba can vary based on the model, but the steps are fairly similar. Most models, including the i4+, the j7+, the i8+ and the j7+ Combo, feature access to the dust bin at their front side. You press a tab and to remove the bin from the robot. However, the s9+'s dust bin is located at the top of the vacuum, so you open the top door to remove it. Once you remove the bin, hold it over the trash, and push the release button to open it and dispose of the dirt. Wash the bin in warm water and dry it thoroughly before returning it to the Roomba.
In addition to the dust bin, you should also clean the vacuum's brushes and wheels. Turn your Roomba upside down, and press on the lever that releases the two rolling brushes. If there is hair wrapped around the brushes, pull it off. For tangled hair, you may need a pair of scissors or a kitchen knife to remove it.
Cleaning a Roomba's caster wheels is easy because it pops out without any fuss. You can then wipe it down and clean out its wheel well. The side wheels aren't removable, but you can push them aside to remove any dirt, hair or dust that may be trapped around them. Before you put your Roomba back to charge, wipe down the contacts on its underside with a clean, dry cloth. That will ensure that it continues to charge properly.
Copyright 2023 BestReviews, a Nexstar company. All rights reserved.