How to get the most for your money when upgrading your outdoor living space
IN THIS ARTICLE:
The backyard of your home is a space that can be utilized in a variety of ways, depending on how much you want to invest. If you're looking for a major upgrade, you can turn your patio into an outdoor media room to host late-night movies. However, if you don't want to spend a lot of money but want the maximum atmospheric impact, all you have to do is buy some string lights. Not only do string lights let you extend the usable hours of your patio past sunset, but they also create ambiance.
Five reasons to add string lights to your backyard
Whether purely for aesthetics or other enhancements, there are several reasons why hanging string lights in your backyard is a good idea.
String lights extend the day. Just like a fire pit, adding string lights to your backyard living space extends the day. Dusk no longer means it's time to say your goodbyes. You can keep the party going as long as you desire.
String lights are affordable. Compared to other home improvement projects, hanging string lights is a remarkably economical way to enhance the beauty of your home. Depending on the amount of lights you need, most people can accomplish this task for less than $100.
String lights are easy to install. Hanging string lights requires no special skills. Even an elaborate backyard upgrade can go from start to finish in one afternoon.
String lights create atmosphere. Whether you want fun and festive or soft and romantic, string lights immediately create atmosphere. They not only help define a space, but they can also create a mood as well.
String lights make your backyard safer. When you add string lights to your backyard, it lets you more easily see paths, stairs and obstacles, making it less likely you will trip or fall in the dark.
String light options
One of the best things about string lights is you have so many options. For the most part, however, as long as they're UL listed for outdoor use, one type of string light isn't necessarily better than another. The goal is to find something that's best suited for what you need.
When it comes to power, you can get string lights that plug in, ones that run off of a battery or even lights that are solar-powered. If you don't have convenient access to an outlet, battery-powered or solar-powered lights might be the best option. However, if your backyard doesn't get a lot of sunlight, solar-powered lights won't be suitable.
As far as types of string lights, you can get them in a long string, a short string or in several vertical strings that create a curtain of light. The bulbs can be large or small, like fairy lights, and you can even get smart color-changing bulbs that you control from your phone.
Before purchasing string lights, consider your space, outlet locations and the best strategy for illuminating the area. Then search for the string lights that check all the right boxes.
Best outdoor string lights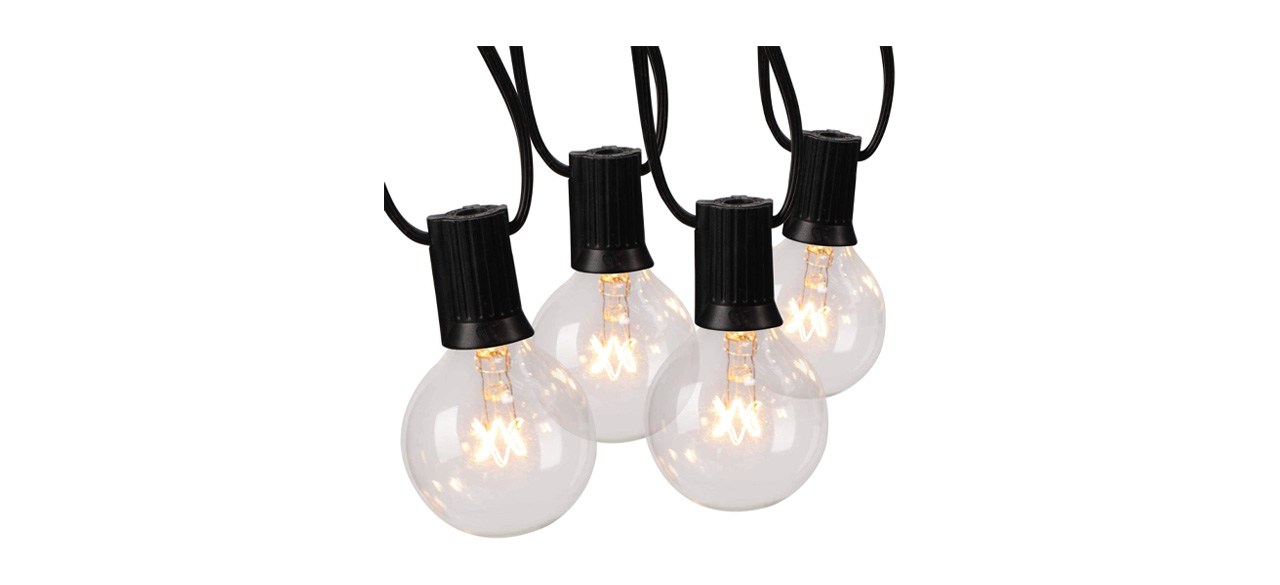 Brightown Outdoor String Lights
These energy-saving string lights are dimmable so they can create a warm and cozy atmosphere. The string is 100 feet long and has a 6-inch lead with 12 inches between each bulb. They are UL certified and manufactured to withstand extreme temperatures and come with a spare fuse stored in the plug.
Sold by Amazon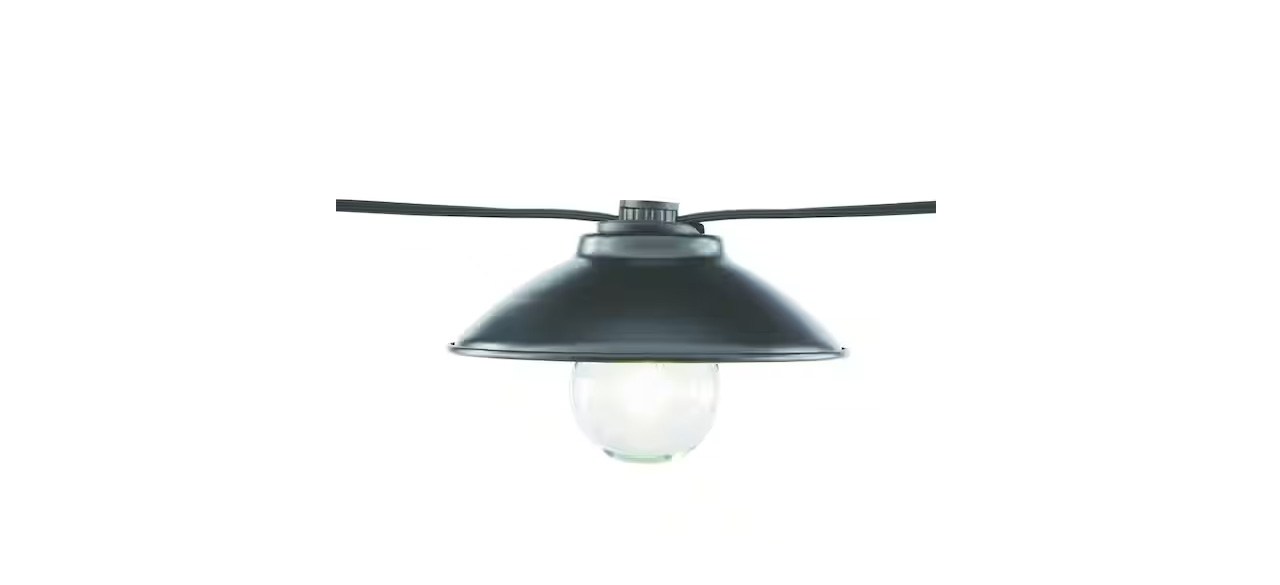 Hampton Bay Incandescent String Lights
Each light in this string has a little covering that adds style and creates ambience. There are 10 incandescent globe lights per 11-foot string that provide 9 feet of illuminated space. The strings are weather-resistant and UL listed to be safe outside.
Sold by Home Depot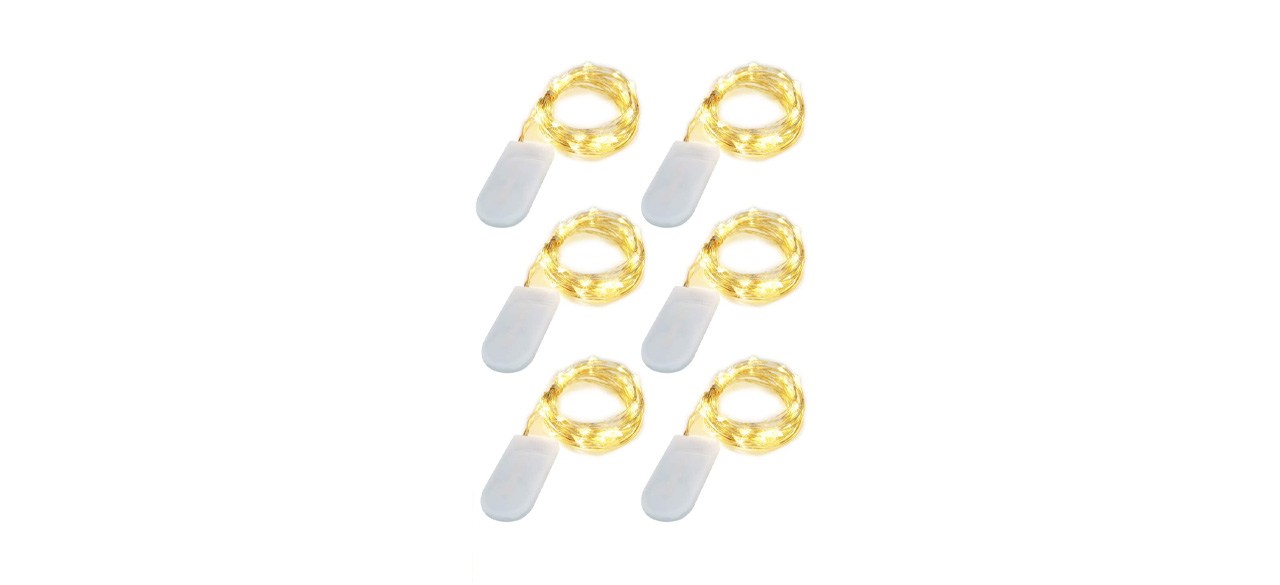 OakHoamie Waterproof Fairy String Lights
Fairy lights are a special kind of outdoor lighting option. These tiny bulbs, with just a wisp of wire between them, create the illusion of sparkling fairies flitting through the air. Batteries power the lights, so you can hang them anywhere. The batteries provide over 48 hours of continuous lighting.
Sold by Amazon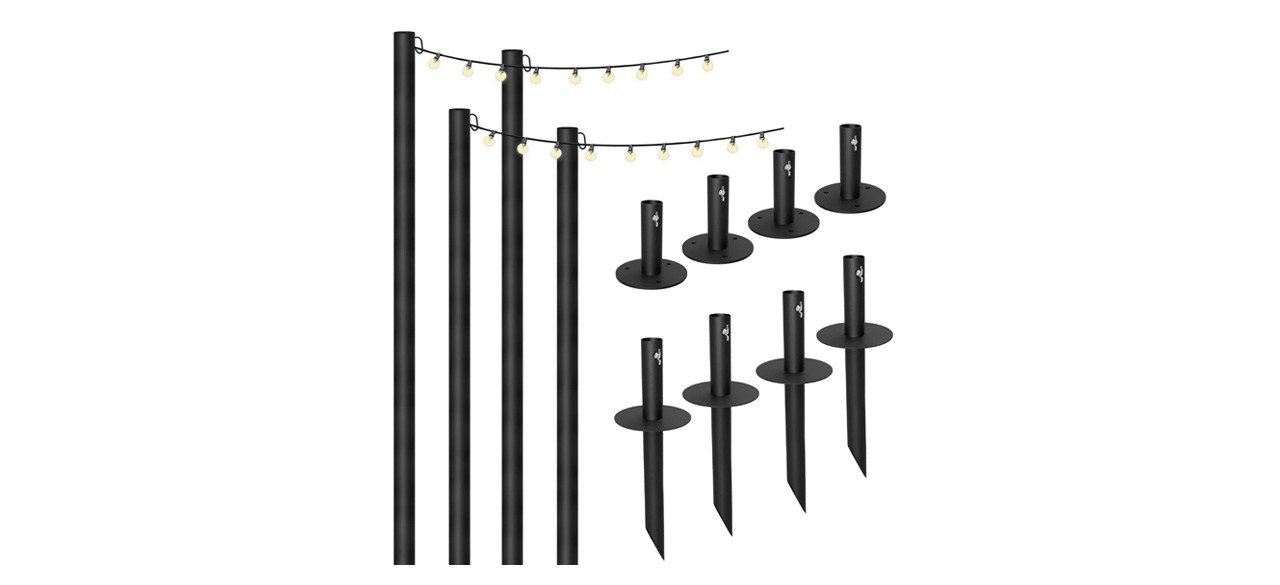 Excello Global Bistro String Light Poles
If you need to create your own hanging points for your patio lights, this set is a solid option. It comes with four black powder-coated poles that extend up to 10 feet tall to let you define the lighted space. Each pole has two bases, so you can place them on either hard or soft surfaces.
Sold by Wayfair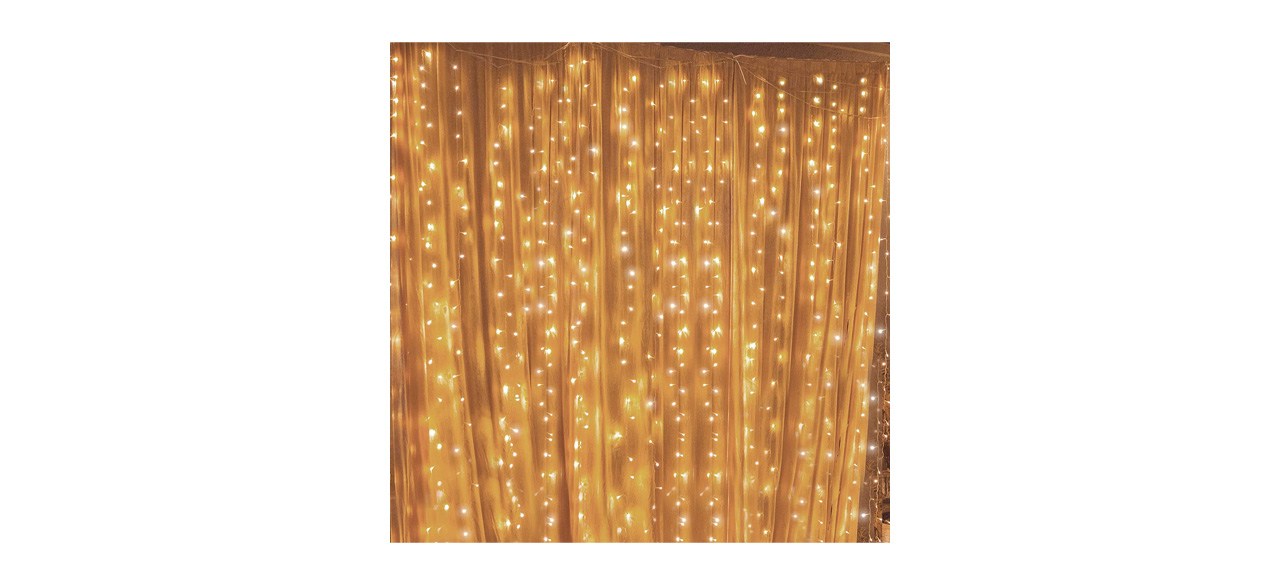 Twinkle Star Outdoor Window Curtain
Curtain string lights serve a special purpose. They form a cascading wall of light that can create an elegant backdrop to better define your outdoor space. This offering has eight operating modes and comes with 300 LED lights to provide a denser lighting display.
Sold by Amazon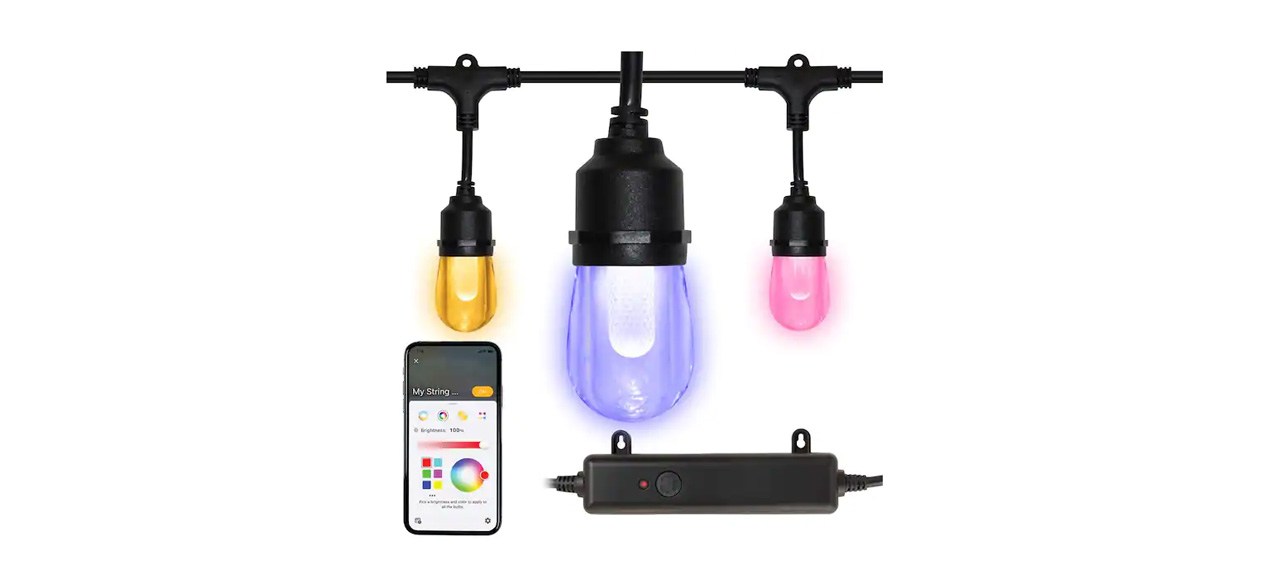 Hampton Bay Color-Changing String Lights
These smart lights are suitable for iOS and Android devices, and they're compatible with Google Home and Alexa for voice control. By using the free app, you can quickly change the color of these bulbs to make them suitable for any event or holiday party.
Sold by Home Depot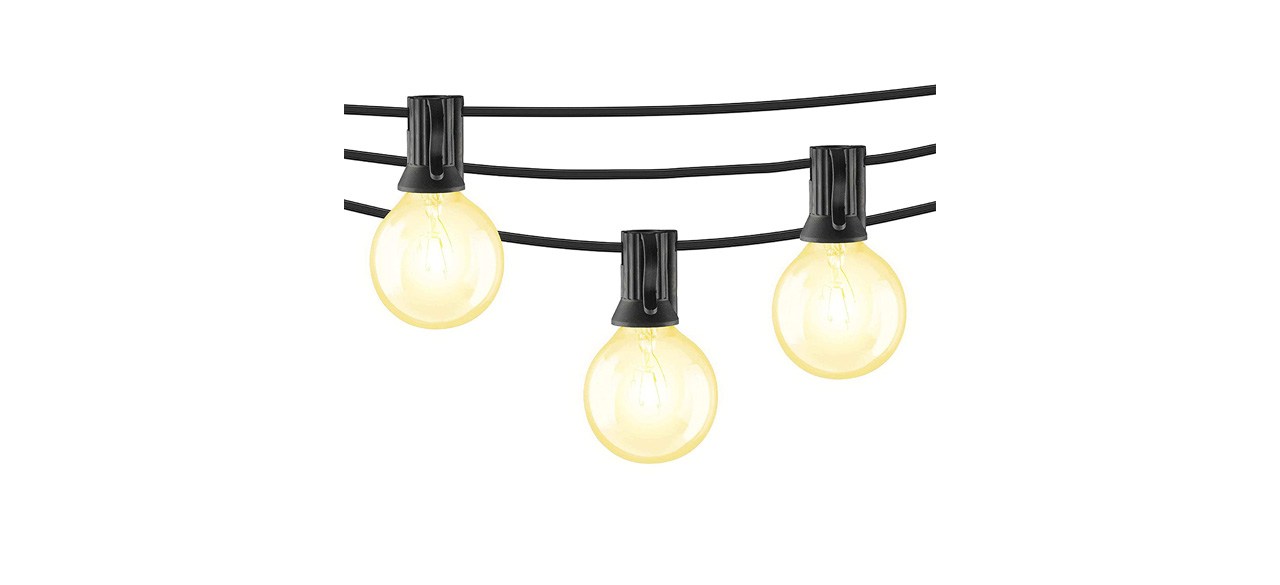 Mr. Beams Incandescent Weatherproof String Lights
This basic option just gives you what you need. The 100-foot string includes 100 glass globe bulbs that can be hung anywhere you desire, from dorm rooms to outdoor living areas. If a bulb ever goes out, you can purchase a single replacement rather than needing to buy a whole new string.
Sold by Amazon
Other outdoor string lights worth checking out
Want to shop the best products at the best prices? Check out Daily Deals from BestReviews.
Sign up here to receive the BestReviews weekly newsletter for useful advice on new products and noteworthy deals.
Allen Foster writes for BestReviews. BestReviews has helped millions of consumers simplify their purchasing decisions, saving them time and money.
Copyright 2023 BestReviews, a Nexstar company. All rights reserved.