NEW ORLEANS — Few law enforcement officers know more about the trauma of being shot in the line of duty than 28-year New Orleans Police Department veteran Chris Abbott.
Abbott has survived three separate shootings. A bullet-proof vest saved his life when he was shot in the chest in 1998. Three years later, in 2001, he was hit four times, the first two times in the torso, then twice in the back of the head after he fell when the gunman stood over him to try and finish him.
After a grueling recovery, he was shot yet again in 2017 driving through Uptown on a neighborhood security detail, a bullet piercing his car and lodging in his leg.
"Of course, you think why me? Why does this keep happening?" Abbott said. "One, you always have to rely on your faith. That's number one. You have your friends and your family."
Despite carrying three bullets in his body that doctors could not remove, Abbott was determined to find a way to continue to serve the city.
"This is still what I want to do," he said.
Fueled by Abbott's determination to continue serving, the department found a perfect job for him: Abbott is the NOPD's first-ever peer support counselor.
The job was created as part of the 2012 federal consent decree to improve the department. While the NOPD had long used a chaplain and police psychologist to counsel officers involved in trauma, the consent decree mandated a more formalized officer assistance program.
Social worker Cecile Tebo was hired to organize the program about two years ago and she immediately thought of Abbott to fill the newly created position of peer counselor.
"From day one, I knew that's who I wanted to be my partner in doing this," Tebo said. "He brings to us just such an amazing personality, such amazing empathy, such amazing love for his brothers and sisters in blue."
Abbott joined the team about a year ago.
Tebo and Abbott not only counsel officers who have been injured, but any cop shaken by the harsh reality of the job.
"You see enough dead people and enough child abuse and just enough other trauma, you know, that builds up on you," Abbott said. "Again, it's like that balloon with helium in it. You've got to let that out some kind of way before it's going to explode."
"Even outside of a critical incident," Tebo said, "you're still going to be faced with tremendous trauma, exhaustion, isolation," Tebo said.
Officers did not immediately embrace the program. There's an old-school police culture in which officers are expected to stoically absorb the trauma they experience on the job, even when the officer is the person directly hit by the trauma.
"It's always embedded with us is, you're the police, this is the job you chose, suck it up, and you keep going," Abbott said
But the macho codes of the past are changing. Police departments no longer just focus on patching up physical wounds, but also providing ongoing help for psychological ones. And that's where Abbott has found a new calling.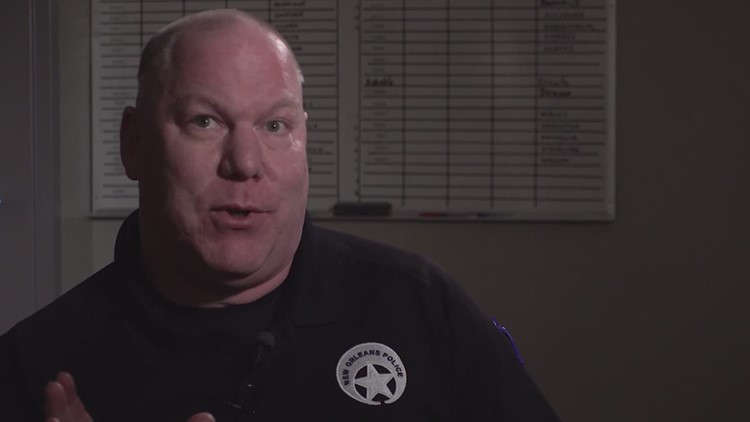 It wasn't easy. Abbott had always been reluctant to talk about his trauma.
"Initially, on the outside they may have that same wall that I had or that same attitude that I had, no I'm not doing that, I don't need to be involved in that," he said.
But Abbott has gradually become a fixture of open-ended support, giving talks at recruit classes, in-service training, and when needed, at times of trauma. Officers can, and now regularly do, call Abbott any time day or night.
"Most of the peer support is just talking, just one-on-one talking. People just want to be heard," Abbott said.
Abbott brings a modest demeanor to the new job, downplaying his injuries and the psychological impact that has lingered to this day. At a recent in-service training program for about 60 officers, Abbott introduced himself this way:
"For some reason they think I've been involved in a few incidents. So I do the peer support side."
Officer Juan Barnes is familiar with what Abbott has gone through.
Barnes had been on the force just three years when he was shot in the chest and leg in 2001, just two months before Abbott's second shooting.
"I was shot once in the chest and once in the leg, striking my tibia, fibula and femur bone. The one that struck my chest was very close to my heart," Barnes said. "It penetrated my lungs and exited out of my back."
There were no peer counselors back then.
"When you're in a situation like that, you kind of feel like you're on an island by yourself," Barnes said.
As Barnes suffered through eight surgeries on his shattered leg, he remembers his lifeline: a commander who had survived his own bullet wounds: then-deputy chief Mitchell Dusset.
"That man-to-man, cop-to-cop conversation really meant a lot to me," he said. "It really showed someone who I knew empathy, but internally, knew exactly what I was feeling."
Barnes, who now works as a public information officer, was among the first to welcome the new support program and Abbott as the first peer counselor.
"That's just unbelievable," Barnes said. "To have the fortitude to continue after something like that. When you talk about post-traumatic stress disorder, it's hard to overcome something like that."
When WWL-TV first approached Abbott about doing an interview, he was reluctant. But as part of healing his own wounds, he decided to break his silence.
"By going to different training, all of that is therapy for me," he said. "When I go and speak to the recruits, and tell the story, it's all therapy for me."
Keeping with Abbott's aw-shucks personality and straightforward approach to his own wounds, he quickly works to de-mystify the aura of surviving a bullet.
"Initially, everybody's like, wow," Abbott said. "And they want to look at you as that hero kind of thing. But then the more we talk about it, and the more I press on them, this is not glory or hero. This is real life, and this is what could happen."