Ford has offered carbon-fiber wheels for top-of-the-heap models such as the GT supercar, Mustang Shelby GT500, and Mustang Shelby GT350R, and soon they will be available on a lower-line but still performance-oriented model. The 2024 Mustang Dark Horse will be available with carbon-fiber wheels as a standalone option, Ford announced on Thursday at the Chicago Auto Show.
The five-spoke wheels will get a new flat-face design, use carbon fiber with blue accents, and come in 19×10.5-inch front and 19×11-inch rear sizes. Once again, they will be made by the Australian company Carbon Revolution. They will be the first single-piece carbon-fiber wheels from Ford, as a separate piece is no longer needed for the wheel hub.
2024 Ford Mustang Dark Horse carbon-fiber wheels
The front wheels will have a heat-shielding material made from metal and ceramic to protect the carbon fiber from the heat generated from the 6-piston front rotors. The wheels will only be available for buyers who choose an available handling package. According to Mustang product manager Jim Owens, they will be available about 90 days after the the car hits the market. Ford is still tuning the car for the wheels, but says they have already undergone more than 200 tests for structural and environmental validation.
With their lightweight material, the carbon-fiber wheels will save unsprung and rotational mass. Ford said they will weigh 37% less than the Dark Horse alloy wheels of the same size. That translates to about 21 pounds of weight savings in total.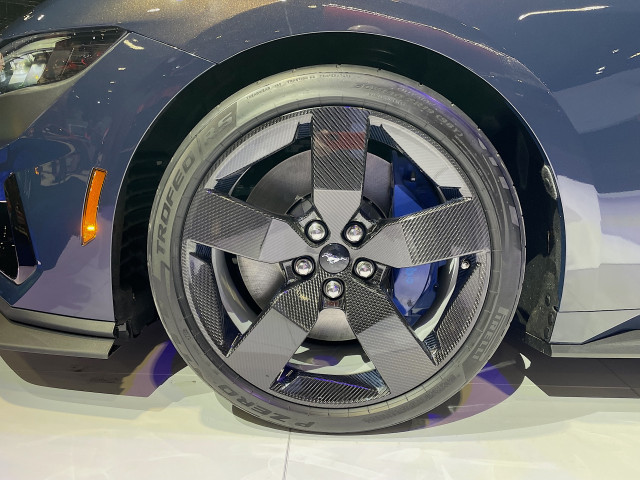 The Mustang Dark Horse will sit above the GT to offer more performance in the Mustang lineup. It will take the place of models like the Bullitt or Mach 1. With less weight, the carbon-fiber wheels will slightly improve performance by sapping less horsepower to turn the wheels and allowing the wheels to turn slightly quicker.
The price for the wheels is yet to be determined and will be announced closer to their launch. The GT350R's carbon fiber package cost $18,500, but also added Michelin Pilot Sport Cup 2 tires, an adjustable carbon-fiber rear wing, a carbon-fiber instrument panel, and Recaro bucket seats. Expect the wheels to cost at least a few thousand dollars less.
Related Articles